All About Traditional Bengali Bridal Jewellery Collections [2021]
Bengal has long been regarded as a region abounding in intelligence, tradition, and great women leadership. Whenever it concerns fashion, customs, and heritage, the region has its own flavour and flair. They have established their own culture, and you may get the most stunning choice of Traditional Bengali Bridal Jewellery there. The bong brides rock their looks in outfits as simple as A red benarasi saree, an elegant kolka art on the forehead, and the beautiful traditional bridal jewellery. Here is a list of some of the most exquisite styles of the Bengali brides that you might surely add to your bong bridal trousseau.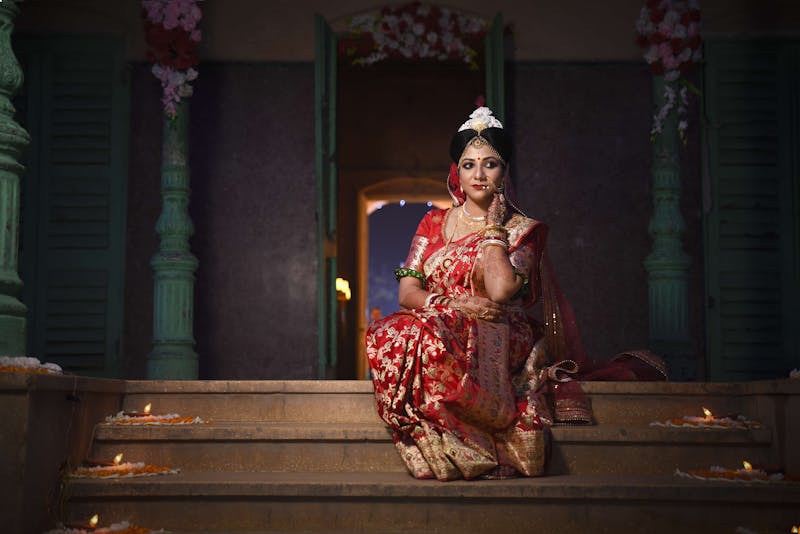 Traditional Bengali Bridal Jewellery For Head.
Let us begin with some beautiful styles for your head.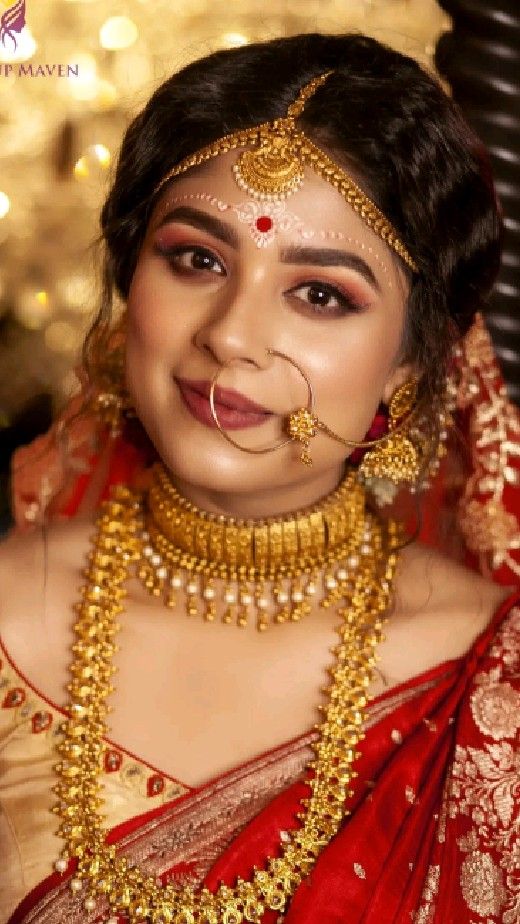 1. Golden Tiara for the bride.
The Bengali brides wear a typical crown or tiara for their wedding along with their traditional saree. The tiara also regionally called as Mukut is usually worn around the bun or the crown of the head. Bong mukuts are found to be made of gold, however, the most common ones are usually floral or 'shola' ones.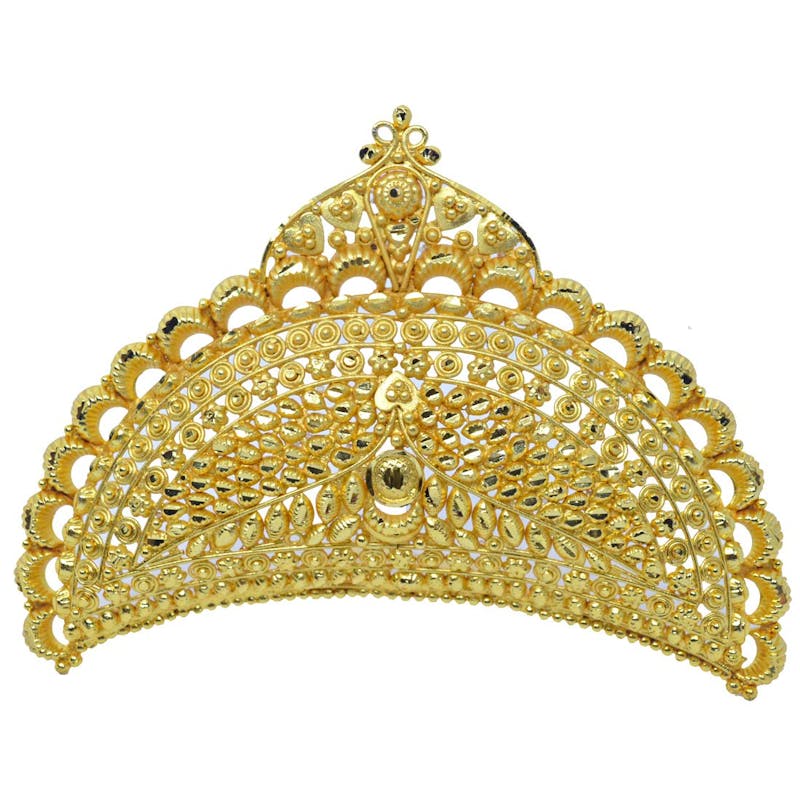 2. Taira tikli - the bong matha patti!
The classic Tayra & Tikli are the Bong's renditions of Maang tikka and Matha patti , which are popular in other parts of the nation. They're used to define or accentuate the flawless horizontal split of the hairs also known as sithi in Bengali.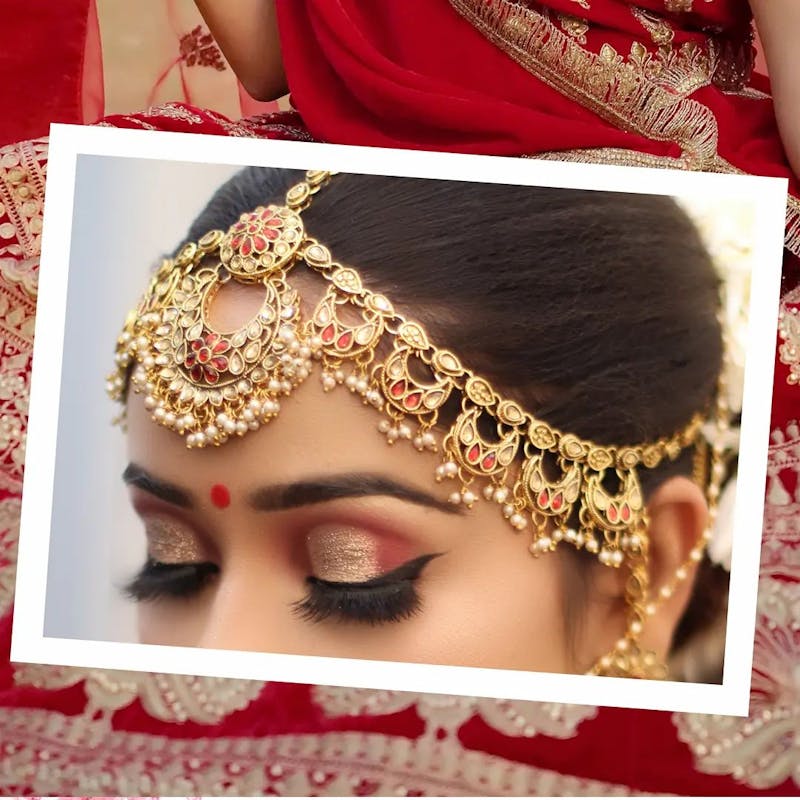 3. Hair brooch for the perfect bun.
Bong brides have a special obsession over their hair bun or khopa. They are fascinated with neat and tidily done hair. And this is where the obsession over the golden hair brooches to adorn the hair does come from. Flora, butterflies and many more styles are available in hair brooches.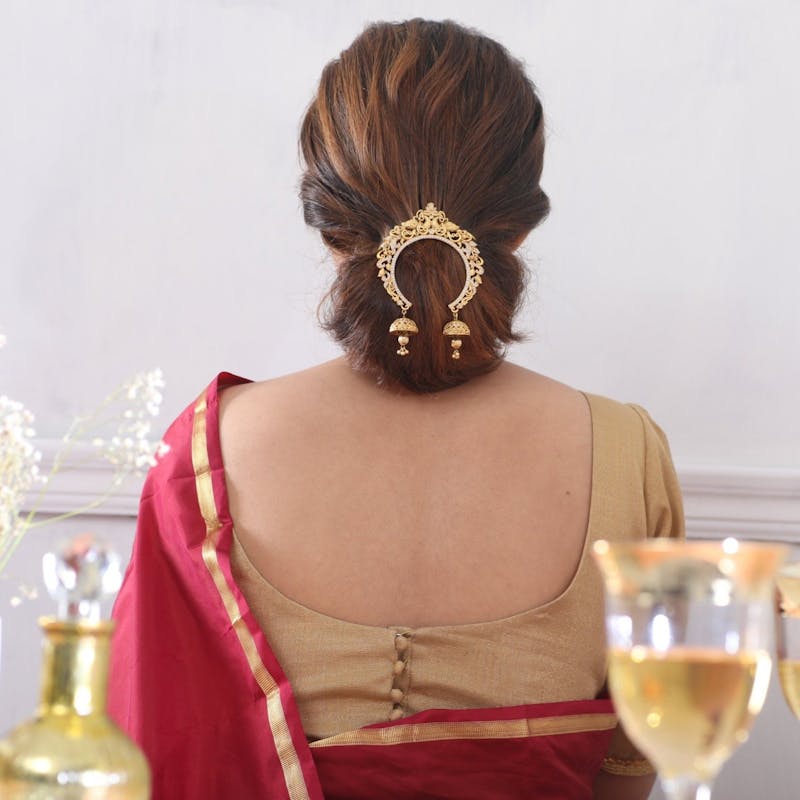 Bengali Bridal Jewellery For Ears And Nose.
Now that you have seen the head wears, how about some pieces for your ears and nose?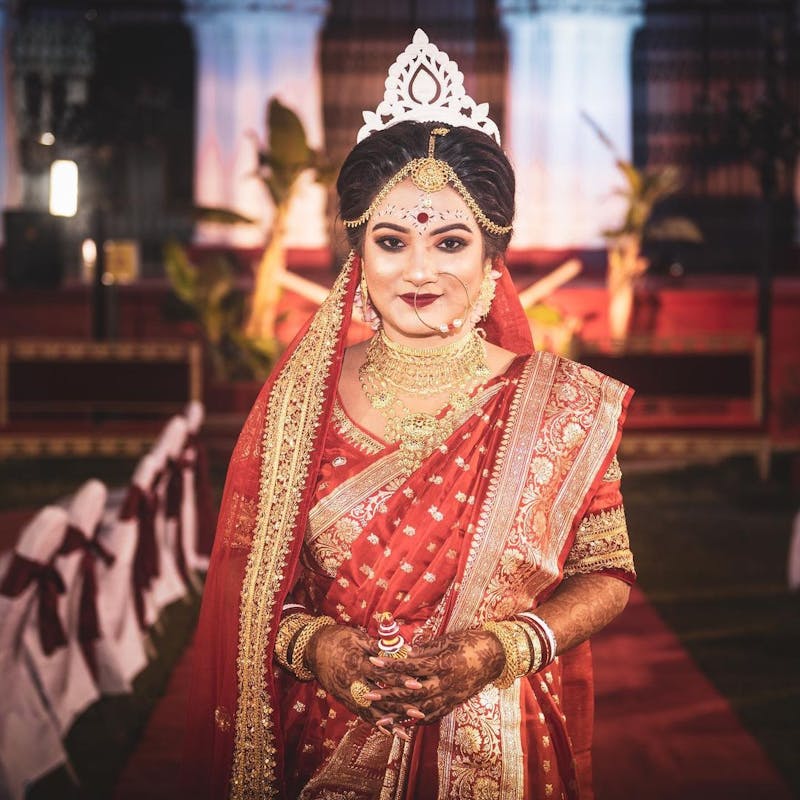 4. Dul and jhumka - Traditional Bengali Bridal Jewellery for ears.
Jhumkis are usually the bell shaped designs that come in earrings. They are huge dangling designs that are absolutely loved by bong brides. Bong brides today prefer wearing simple and light earrings and jhumkas for their weddings. You are surely gonna find an array of heavy or light jhumkas for bridal jewellery.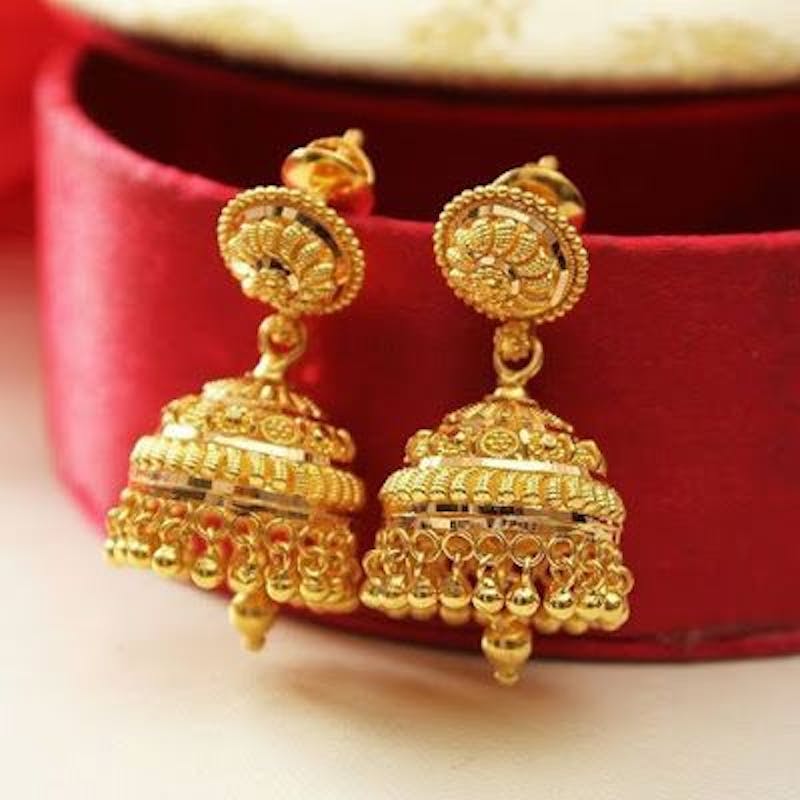 5. The regal kanbala designs.
Kanbala is a foliage shape with a little jhumko or other dangling pattern that is designed to wrap the full ears. It is a stunning design which comes in the collection of bengali bridal jewellery. This is indeed a very popular and native design of the Traditional Bengali Bridal Jewellery.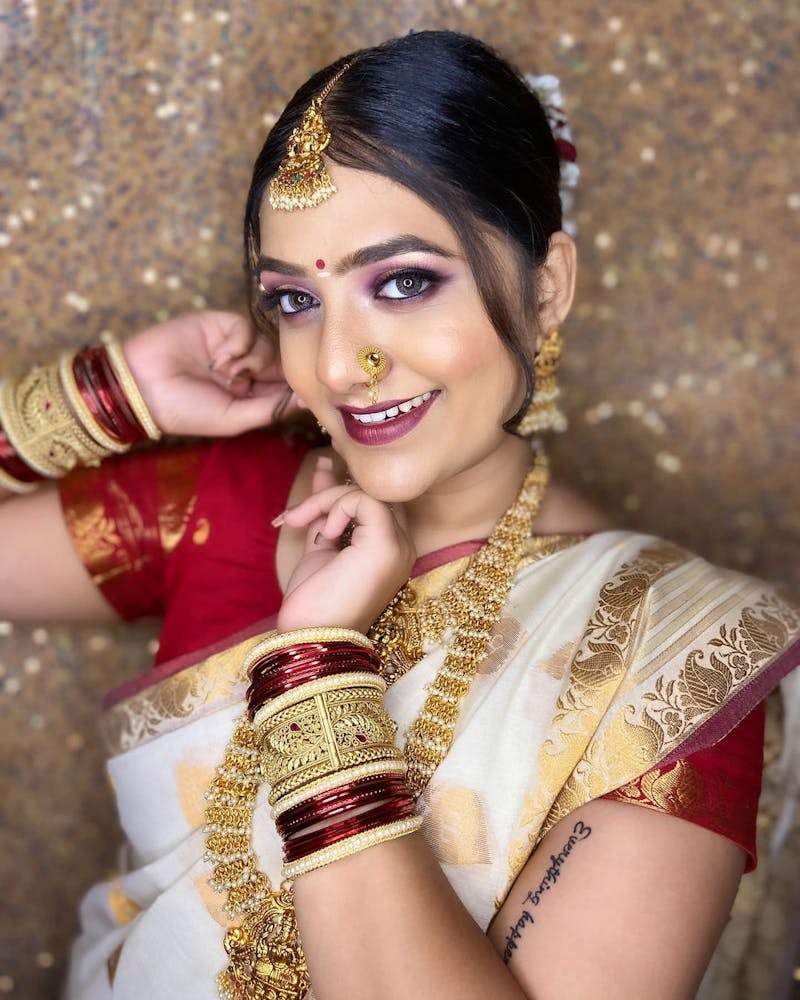 6. Kanpasha for Bengali gold jewellery.
The word 'poisa' is the mother of the word 'pasha'. And 'Kaan' means ears in Bengali. Kaanpashas are hence the coin like designs of bengali traditional earrings worn by the brides and also used as a little elaborate golden jewellery design for festivals and regular wear.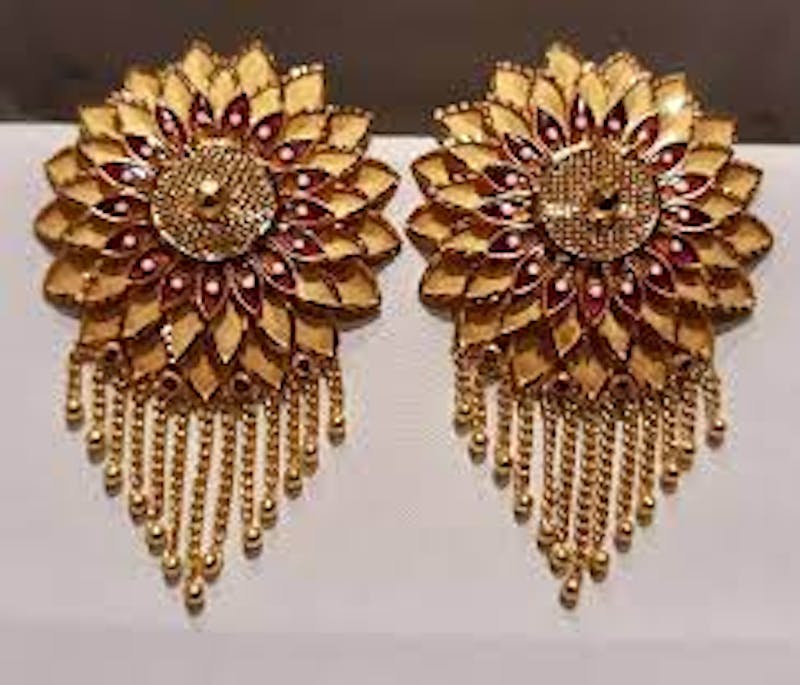 7. Bengali gold jewellery Noth for nose.
So you might have seen brides and many other traditional bong women pair themselves in beautiful goddess-like nose rings that also often have a sleek chain like design that attaches to their hairs. These are the traditional Noth in bengali culture and are extremely beautiful in their appeal.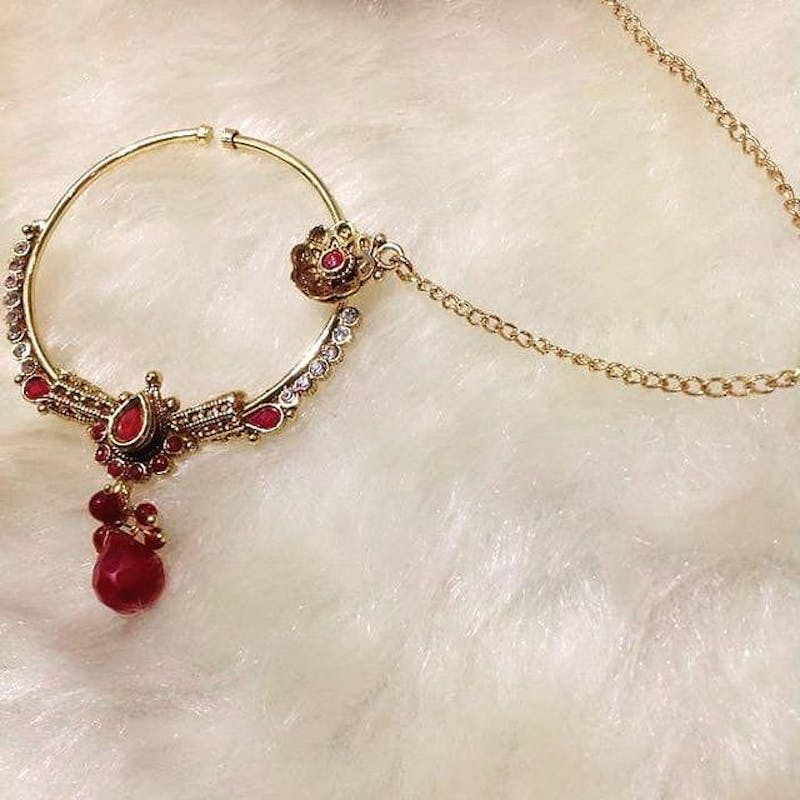 8. Nolok for the middle of the nose.
If you recall watching Bengali movies set in the old Bengali plots, you may have seen women characters wearing cute little rings in the piercings in the middle of their noses. In fact, the trend has resurrected in modern times as well. These timeless pieces are known as Nolok in Bengali culture.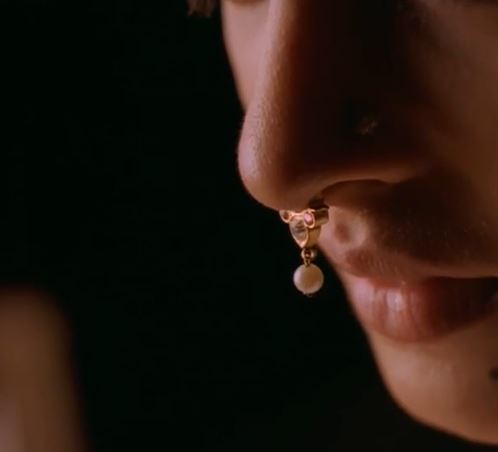 Neckpieces In Traditional Bengali Bridal Jewellery.
How about those regal majestic neckpieces in Bengali jewellery?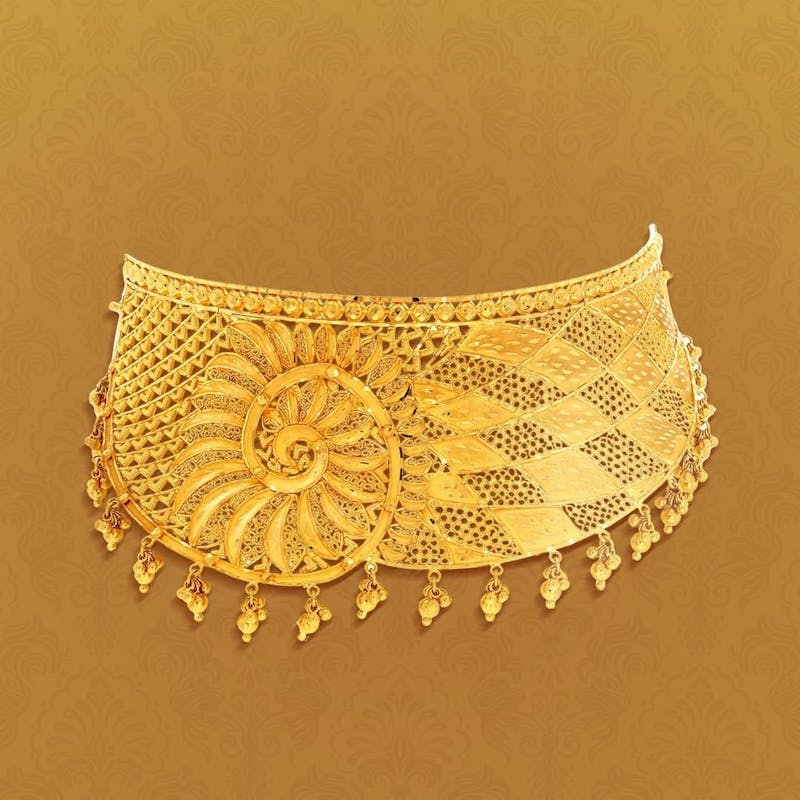 9. Chic Traditional Bengali Bridal Jewellery for neck.
Chokers have been in the recent trends, paired with Indian as well as western outfits. But did you know that the Bong bridal treasure box has their own adaptations of the choker concept? They are usually a red or maroon suede patch adorned with little gold structures. However, you may find them made of solid gold as well.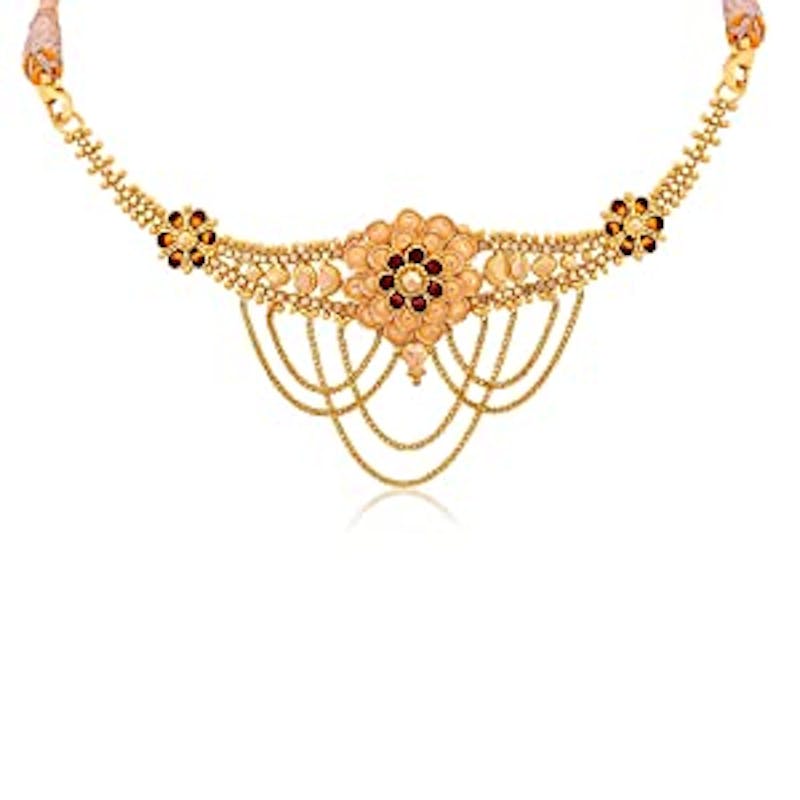 10. Elegant Noli haar designs for bong bride.
These are bengali necklace with a tiered pattern. They are known as saat (7) noli haar or paanch(5) noli haar and have 7 as well as 5 strands of chains. They were typically fashioned of real gold. Today, owing to the rise in price of gold, they have been replaced with white beaded chains, which are a less expensive substitute to pure golden chains.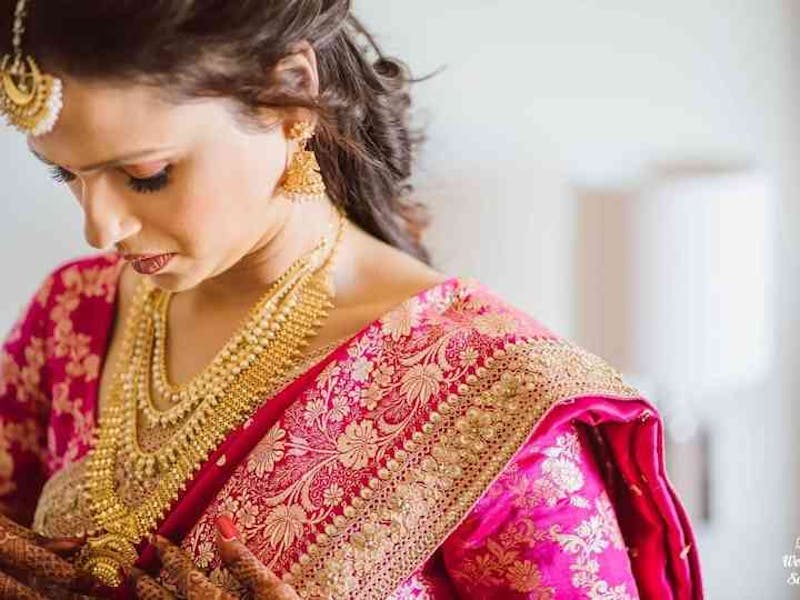 11. Traditional bengali bridal necklace.
Yes Bengali necklaces are indeed unique in their designs as well. They are known as haar. Brides and women wear them on the area along their collar bones. Haar or simple necklaces are a very common choice of Bong bridal jewellery.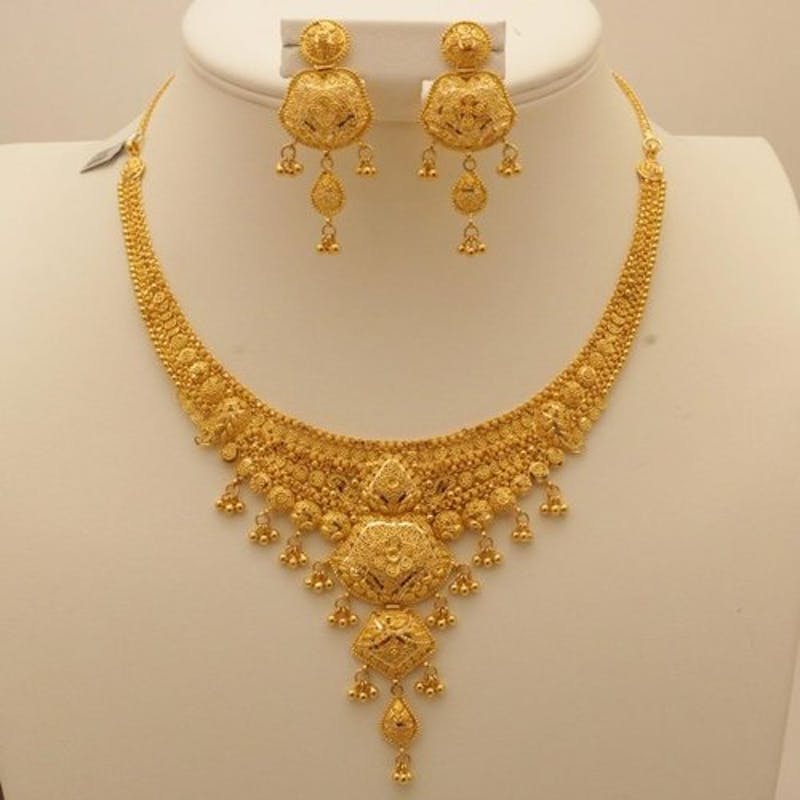 12. Modern light gold bridal tassel locket.
We ought to agree that the Gold jewellery scenario in the country is not the same as it used to be in the ancient times, even right around the Independence. This is why a light and less gilded design like this has gained popularity today.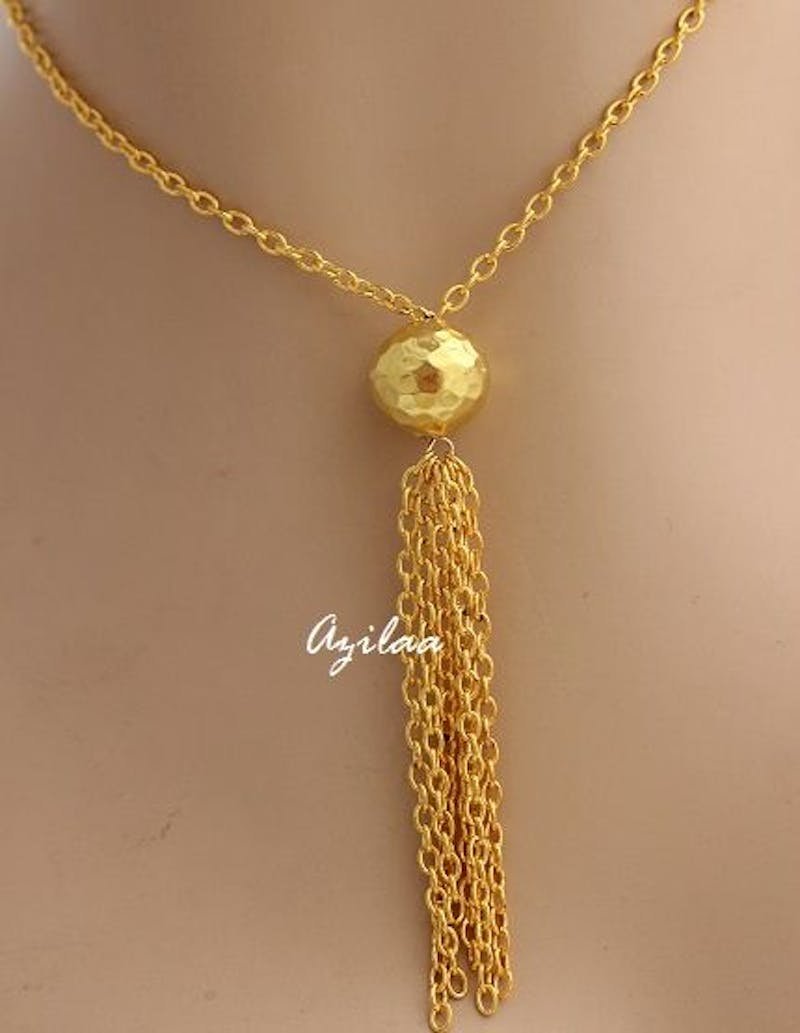 Bengali Bridal Gold Jewellery For Arms And Hands.
The hands certainly look ethereal with being adorned by these beautiful hand ornaments.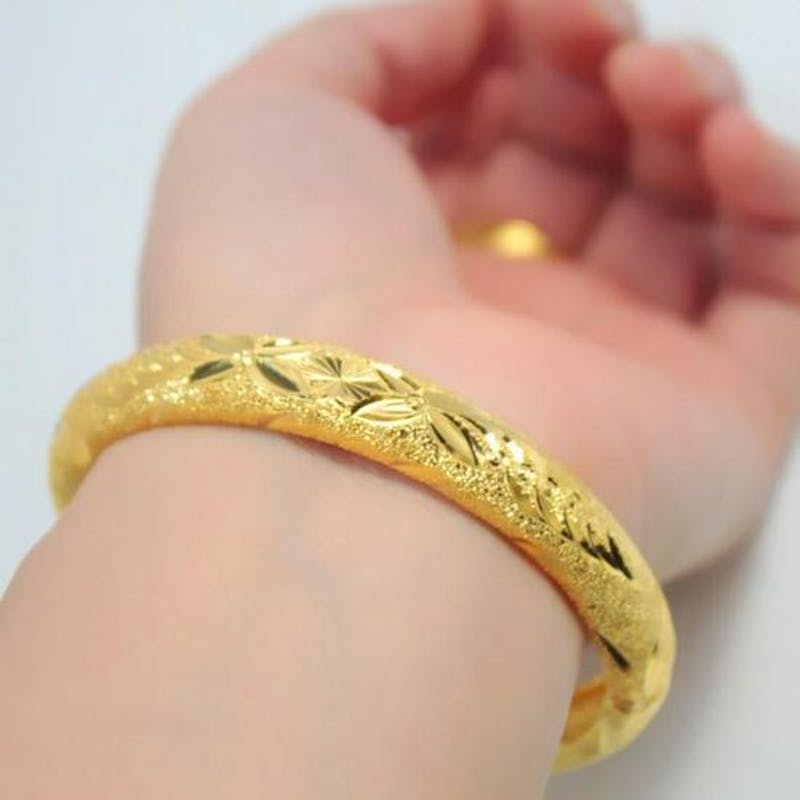 13. Traditional Bengali Bridal Jewellery of Ratanchur.
We know that Mehendi has not been a thing for bong brides forever. So how did they adorn their bridal palm then? They slayed their golden ratanchur looks then. They are designs that seem to attach a wristlet and four finger rings with designer chains.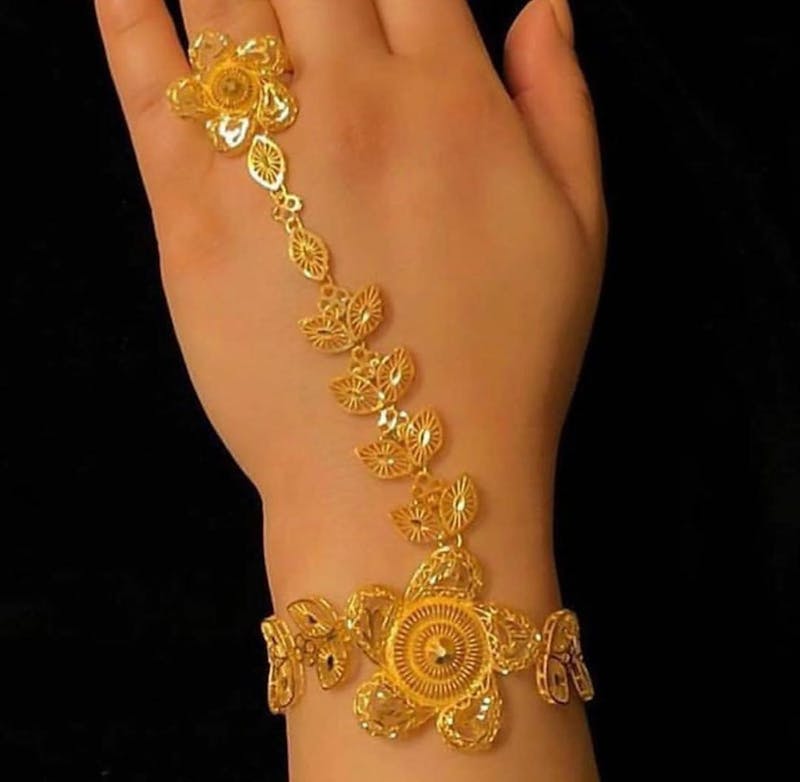 14. Baala for the hands of a bengali bride.
Bala used to be made of solid gold in olden times. However, Bala designs today are also known as pipe kada. They are hollow gold bangles that are stuffed with lac or gala fillings. A very much coveted and popular style of bridal jewellery.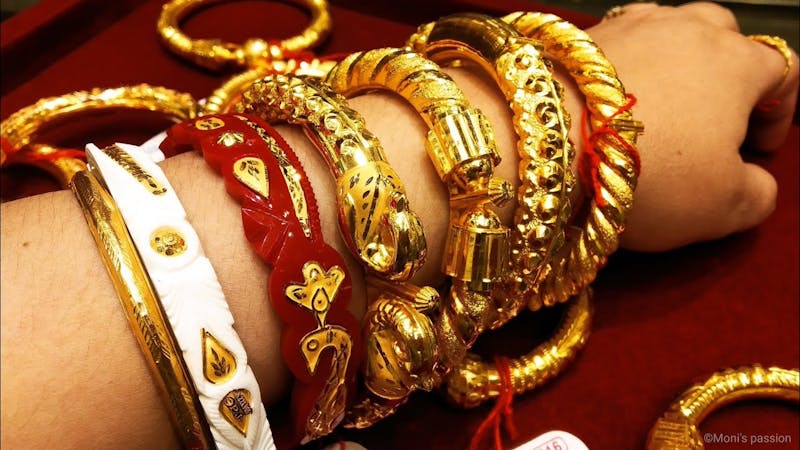 15. Mantasha as a Traditional Bengali Bridal Jewellery.
Layers of gold chain like designs that are attached to a solid golden silhouette is what Mantasha designs of traditional Bengali bridal jewellery are made of. They are beautiful, chic and elegant adjustable designs of wristlets.
16. Noa badhano for the Bengali bride's hand.
Bengali ladies wear Noya, a black iron bracelet, as a token of her matrimony. Some choose, however, to sport the gilt metal wristbands for a much more classy aesthetic. You may find a plethora of designs with your favourite goldsmith.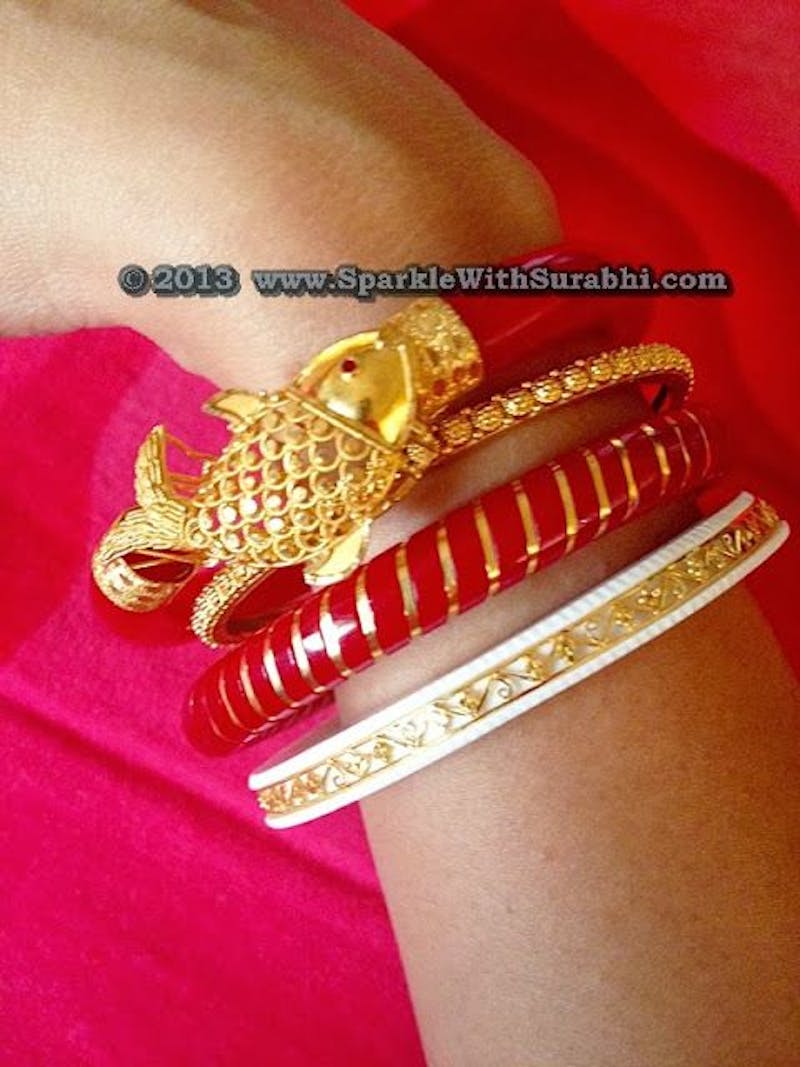 17. Sankha pola badhano for Traditional Bengali Bridal Jewellery.
Along with their Noya badhano, Bong married women also wear a pair of beautiful bangles made of conch shell and red lacquer, on both of their wrists. They are called Sankha and Pola. They also frame them in golden designs to enhance the beauty.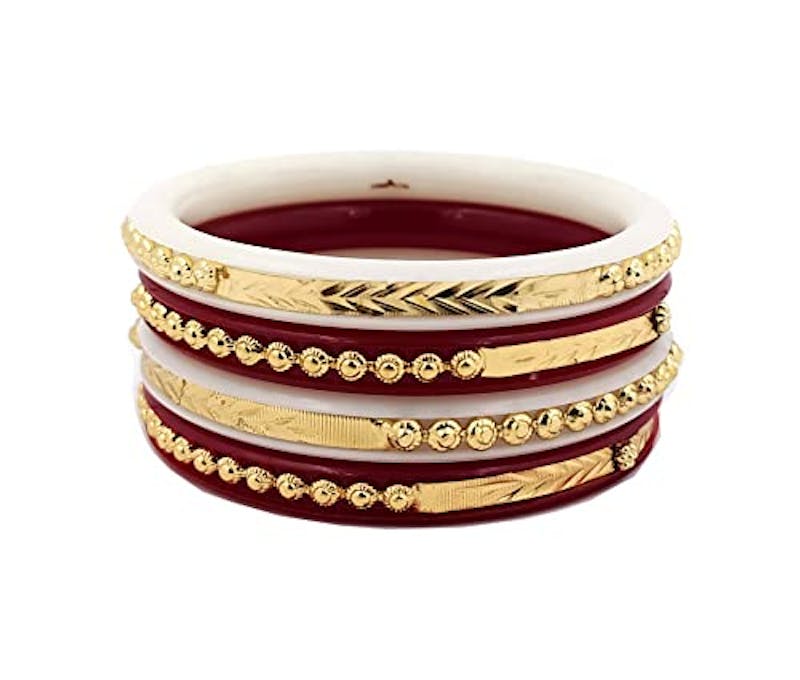 Some More Traditional Bengali Bridal Jewellery Designs.
Let us explore some more of the very beautiful pieces that bong brides do for their day!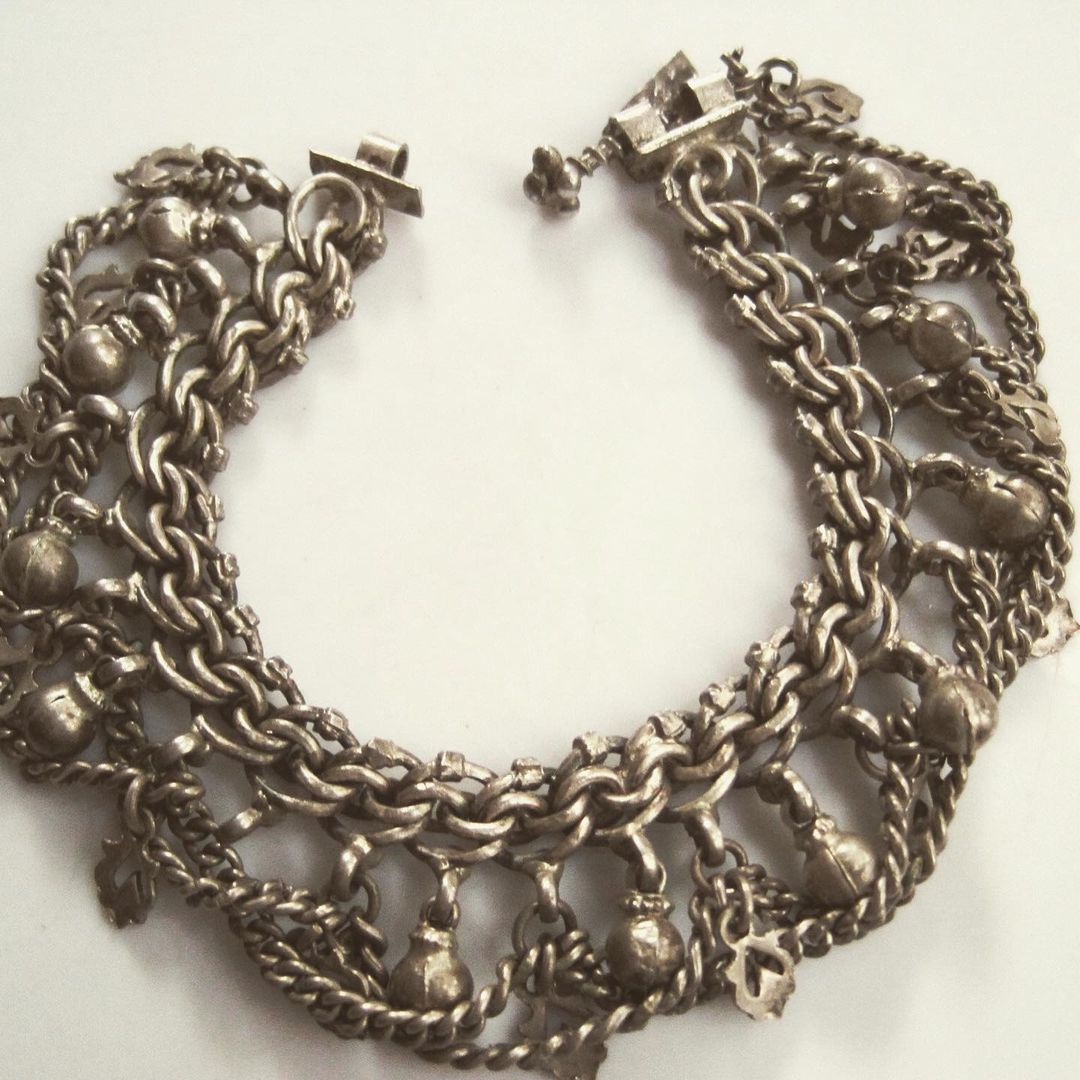 18. Nupur for the feet.
Gold is deemed as a holy metal in the bengali culture. So they refrain from wearing them on their feet. However, Bong brides put up some exquisite silver anklets also called nupur.
19. Chutki, yet another Traditional Bengali Bridal Jewellery for toes.
Silver toe rings or chutkis also make an integral part of the Bong bridal ensemble.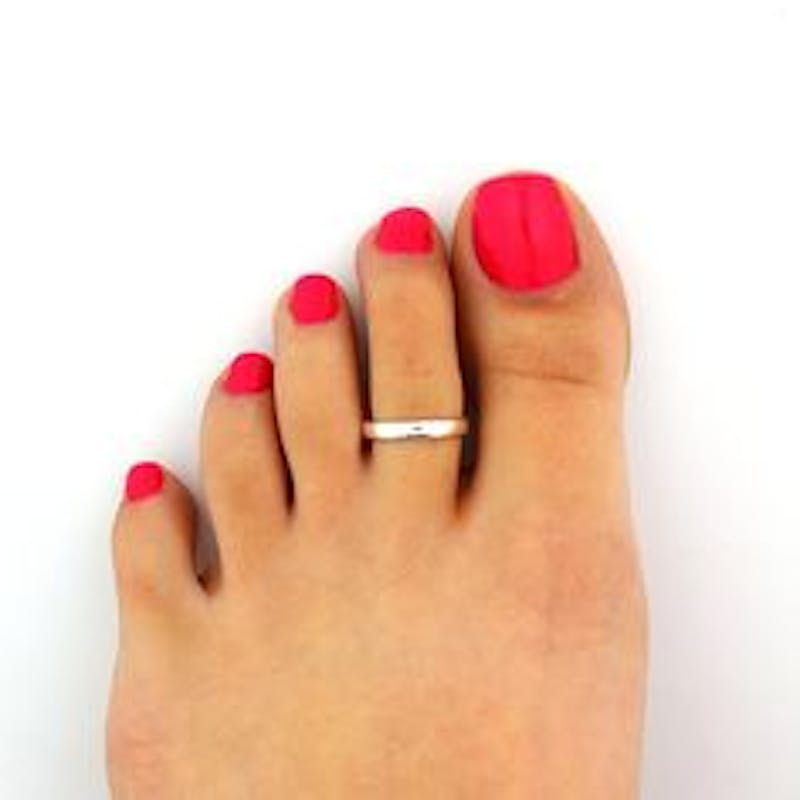 20. Traditional Bengali Bridal Jewellery of Biche for the waist.
Biches are some really sultry and elegant key chain or ring style ornaments bong women wear on the pleats of their sarees. A very traditional Bengali bridal jewellery.