10 Simple Pre Wedding Shoot Dress Ideas
Well, those wedding bells are ringing all around the way. So you and your partner are both looking forward to getting quality Pre-wedding pics taken in your chosen location shortly. After all, apart from your marriage days, this will be among the most cherished moments in your lifetime! Then you've finished organizing your day, but you're having a hard time settling on the ideal pre wedding shoot dress idea. Well, you needn't bother much when we have come up with some of the very perfect pre wedding photo shoot dress ideas for you to consider. But before that let us ponder upon a few things to consider before you decide on what to wear.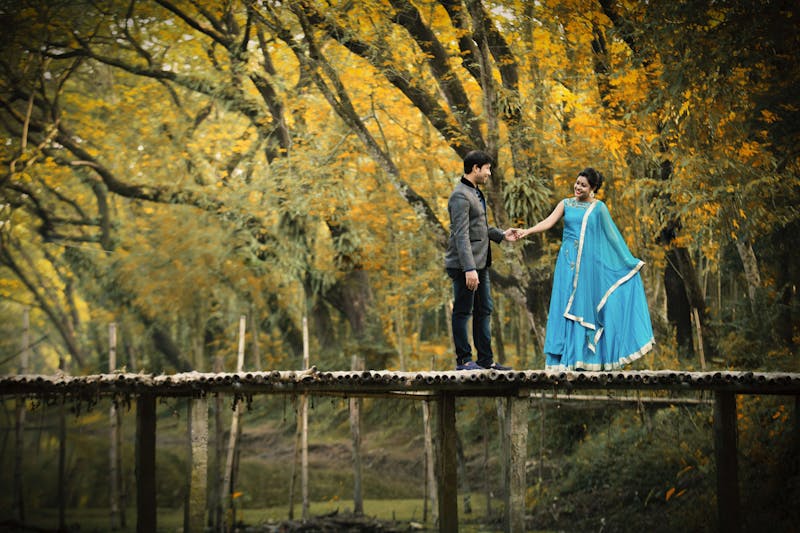 Be confirmed about the destination where the shooting is gonna take place.
Yes this is indeed the very first thing you need to take into account while you look out for deciding what to wear for pre wedding shoot. It is extremely important to make your outfit match your surroundings.
Do not forget to express your fashion quo through your choice of outfit.
Yes, this is important. Trends shall come and go, but nothing is going to suit you better than the style you feel most comfortable in. make your outfit voice reflect a part of you, and what you are as a person.
Ensure a sync and connection between your combination of OOTD.
Pre wedding shoots aren't only about you. The day is as important to your significant other, as it is to you. In fact it is a combined happiness of you as a couple that is gonna make your shots stand out. So try to make your couple pre wedding dress be in sync with each other as much as possible.
Dress according to the time you have planned your shoot.
Besides the place, you need to dress according to the time you have planned your shoot for. Whether it is the daytime, evening or the daybreak. Choosing your best pre wedding outfits accordingly is crucial.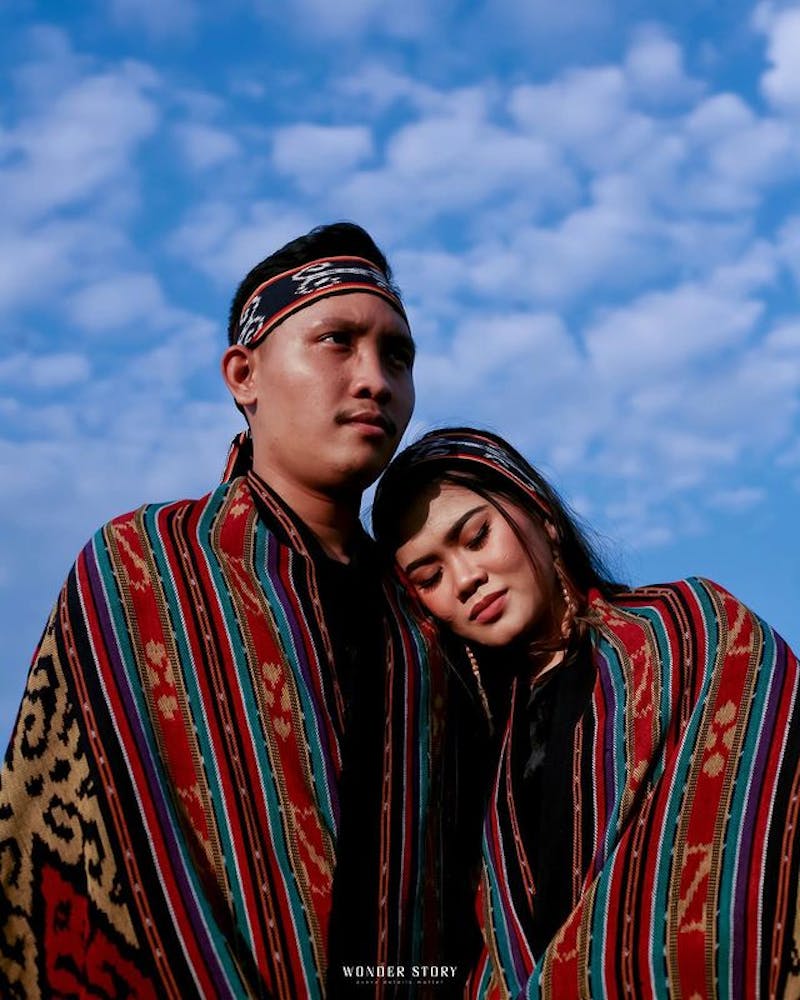 Now swoop your eyes through these amazing inspo of some dresses for pre wedding photoshoot.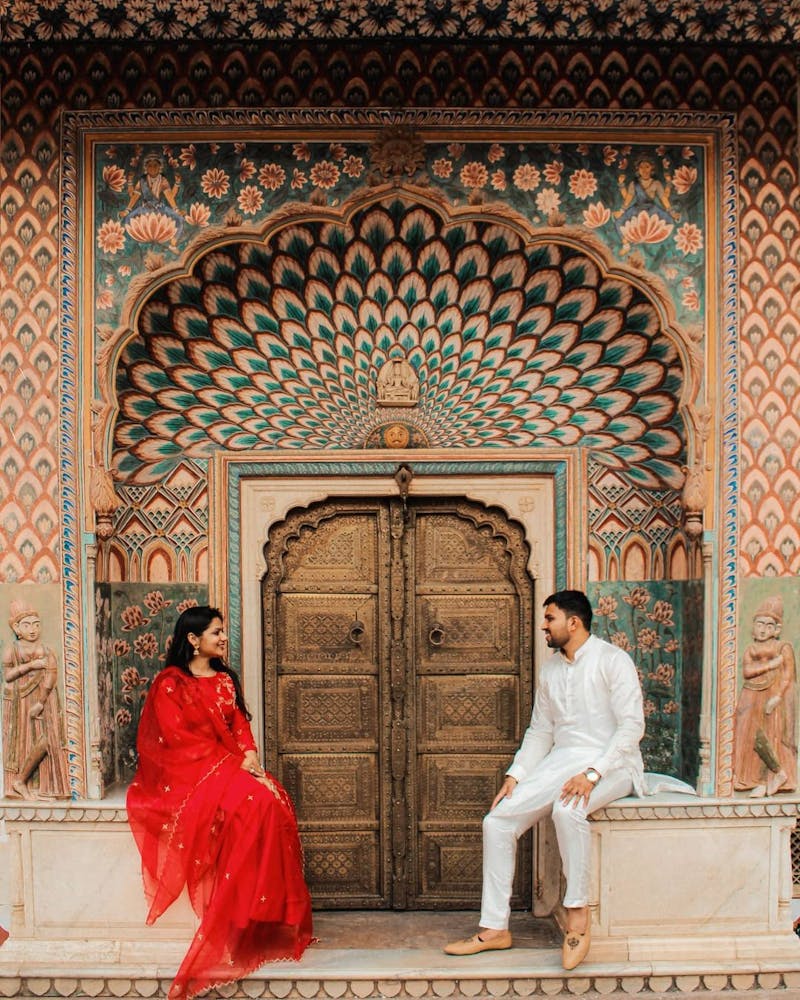 1. Classic Gown Look For Pre Wedding Shoot Dress Ideas.
Gowns are that type of dress that can go with absolutely any backdrop or set up. Be it a bougy five star ambience, or a breezy beach scene or a chill evening affair. You may also go for a subtle gown look for your simple and semi casual inspo or long dress for pre wedding photoshoot. You may also go for choosing accessories to amp up or tone down your look accordingly.
2. Floral Prints Make The Best Ideas For A Pre Wedding Evening.
Evening date themes are the very popular styles and themes when it comes to a budget yet innovative pre wedding shoot theme. And for evening dates, nothing can look as classy and sassy as beautiful subtle floral print dresses that perfectly enhance the romantic and classy vibes of the theme. A perfect dress ideas for pre wedding shoot.
3. You Can Never Go Wrong With A Traditional Saree And Kurta Look.
Yes We have been talking about coordinating your pre wedding shoot outfit ideas with your better half. And what can possibly be the best way to pair as a desi jodi than wearing the beautiful Saree and kurta combo? The bride in a  casual cotton saree with the groom in a simple cotton kurta and jeans look makes the perfect pre wedding dress ideas for couples.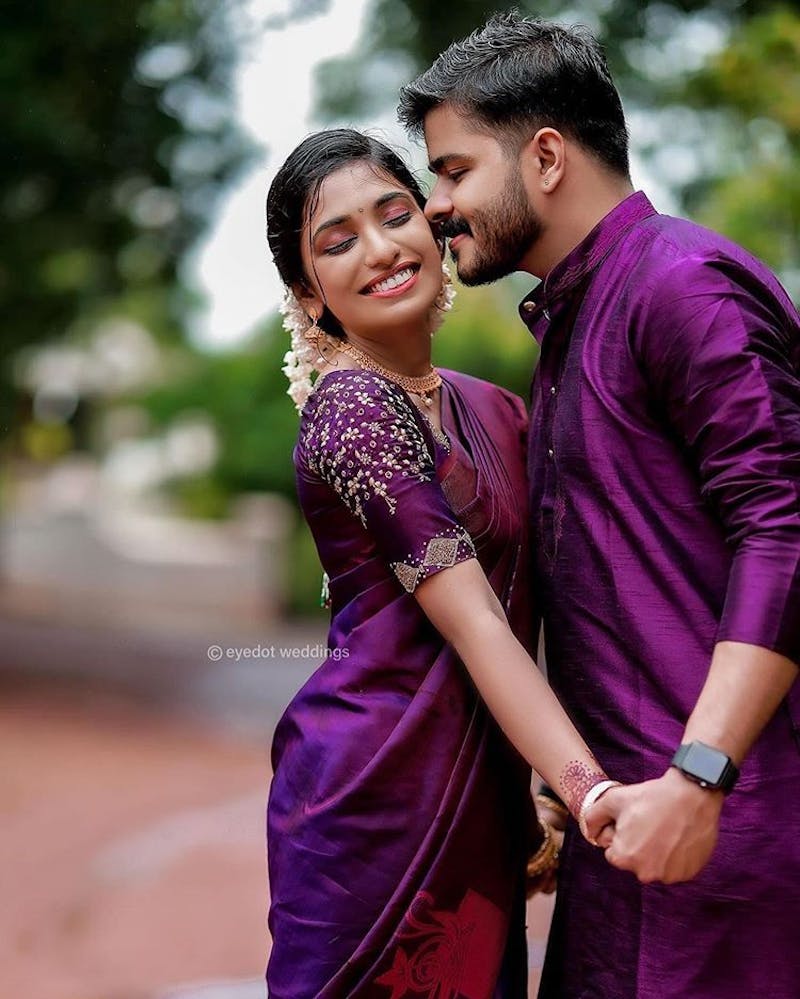 4. The Timeless Lbd For An Adorable And Romantic Evening Date Theme.
Apart from the classic gown look, the little black dress is yet another very apt choice of outfit for the bride for her pre wedding dress ideas. A midi length boigy black dress, with the groom in a dappering black shirt, and absolutely mind blowing combination for pre wedding outfits. Black is such a colour that makes any look from drab to fab.
5. Denim Dungarees Can Definitely Be A Thing For Your Pre Wedding Shoot Dress Ideas.
How about a chilled out vibe in the casual denim dungaree? This has been a piece that has been absolutely loved by almost any girl out there. Be it Anjali from K2H2 or Rachel in F.R.I.E.N.D.S. Nothing compliments the funky and bubbly side of the girls better than the colourful denim dungarees of these ladies. And when this gets incorporated into the pre wedding shoot dress ideas.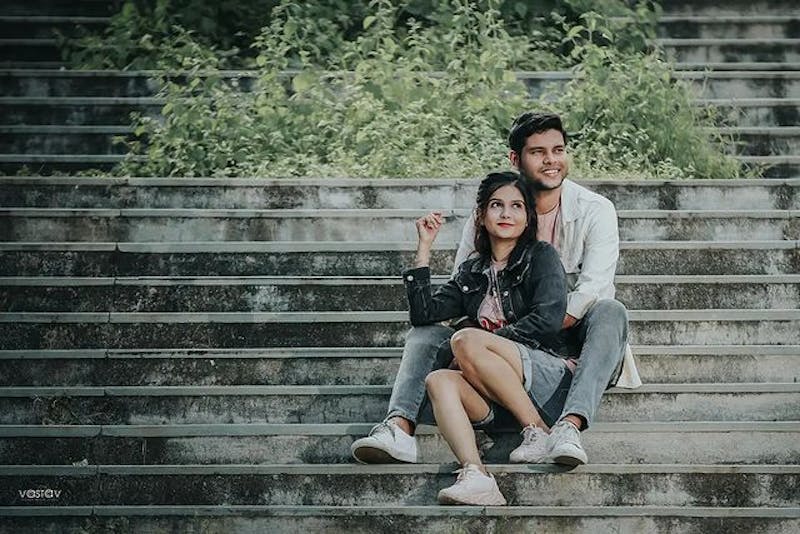 6. How About A Casual And Relaxed Theme Of Jeans And Matching Tees?
If you are planning for a chilled out and relaxed theme of pre wedding shoot, then a casual choice of blue jeans and matching t-shirts shall be an absolute mood saver. The funky colourful t shirts that might also have a print that reflects something you could relate to as a couple. A chillaxed picnic themed pre wedding shoot idea it is.
7. You Can Always Indulge In A Vacay Mood With Some Flowy Beachy Dresses.
Beach themes can be an excellent option for your pre wedding photoshoot ambience. The floral printed organza dress can be an apt outfit for the beachy breezy vibes. In fact a flowy flared dress that hangs loose on the body is also a perfect OOTD for a water themed shoot. The warm sand and the cool sky compliments this type of pre wedding shoot dress ideas.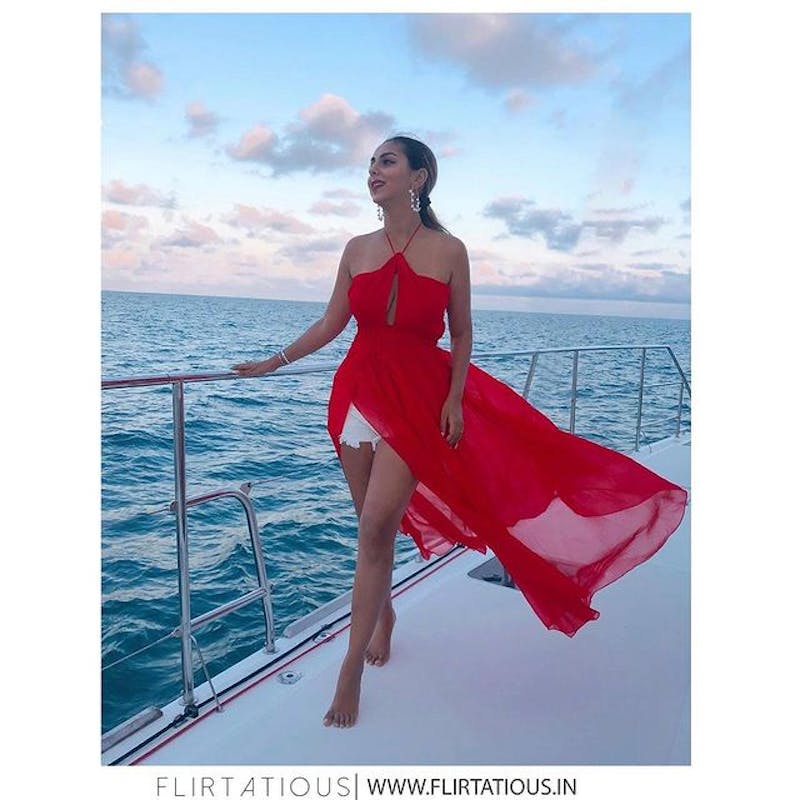 8. A Sequined Dress Can Definitely Accentuate Your Date Night Vibes.
How about shining and glittering like the stars in a blingy sequinned dress. Yes these can be the best outfits for your clubbing or party themed evening pre wedding photoshoot. The glimmery dresses add the perfect amount of bling to your outfit of the day, and also compliments the theme well. Wear a sequined set of Co-ords as your pre wedding shoot dress ideas.
9. How About A Comfy Lounge Wear Look For Staycation Themed Pre Wedding Shoot Dress Ideas.
Not all pre wedding shoots go with a formal and dressy theme. Often a simple and laid back room shoot can also make the best of the albums. You may also go for pairing a simple lounge wear look in the funky printed satin night suits. The cute and relaxing vibes of these outfits shall make some unique and indeed aww-adorable ideas.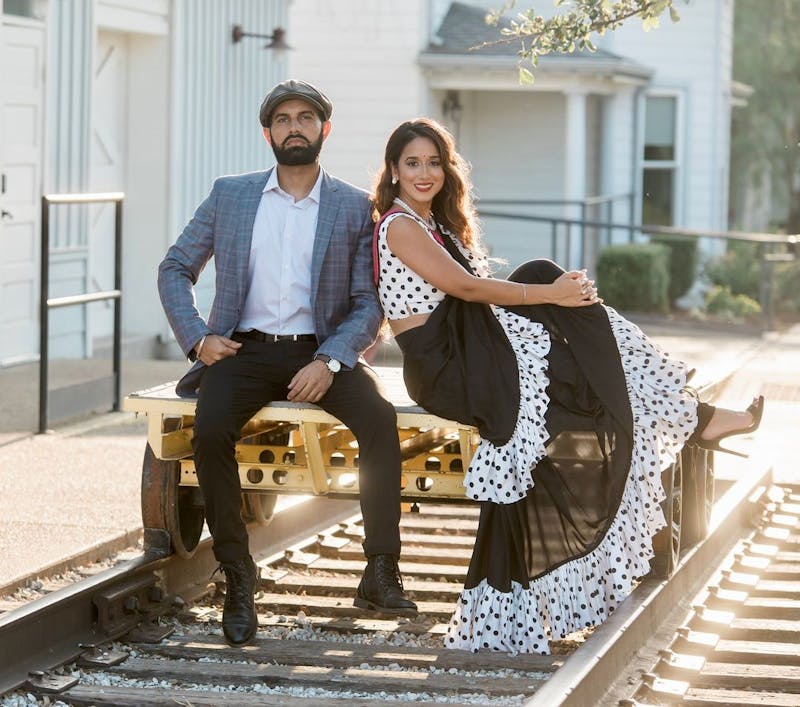 10. A Simple Retro Themed Bollywood Saree Look For Your Pre Wedding Shoot Dress Ideas.
Who doesn't want to feel like a heroine of the 'fillam' of their love story? In fact, how many of you have been fascinated about the elegant and beautiful classic look of actresses like Sharmila Tagore for your pre wedding shoot dress ideas. Consider wearing a vintage style designer sarees for your special day also.