Top 15 Bengali Wedding Saree For Bride
The bridal market in Bengal has seen a number of transformations, specifically in terms of apparel. However, We believe the majority of you will admit that the hype about the Bengali Wedding Saree For Bride hasn't faded. Although there's been a huge increase in the range of choices available. The saree, on the other hand, was always the most elegant, aesthetic, and ageless option. The fantastic thing about saree is with just some creativity, the plain 9 yard of fabric may be transformed into something spectacular. 
You'll discover a diverse range of saree art from all across the land. Apart from the items that are indigeneously Bengli, our Bongo bodhus have incorporated a variety of different ethnic sari styles into their collection.
Therefore, we're going to choose a mix of these classics, as well as some more contemporary modifications, for all the to-be Bengali brids out there to consider for their Bengali wedding sarees in Kolkata.
1. A Dotted Red Banarasi Bengali Wedding Saree For Bride.
Nothing surpasses the splendour of a classic scarlet benarasi silk saree, trust this or not. Indeed, this has been donned by women for generations and will not go out of vogue as a bride's bengali bridal saree. This is most likely due to the regal romantic aesthetic it gives off.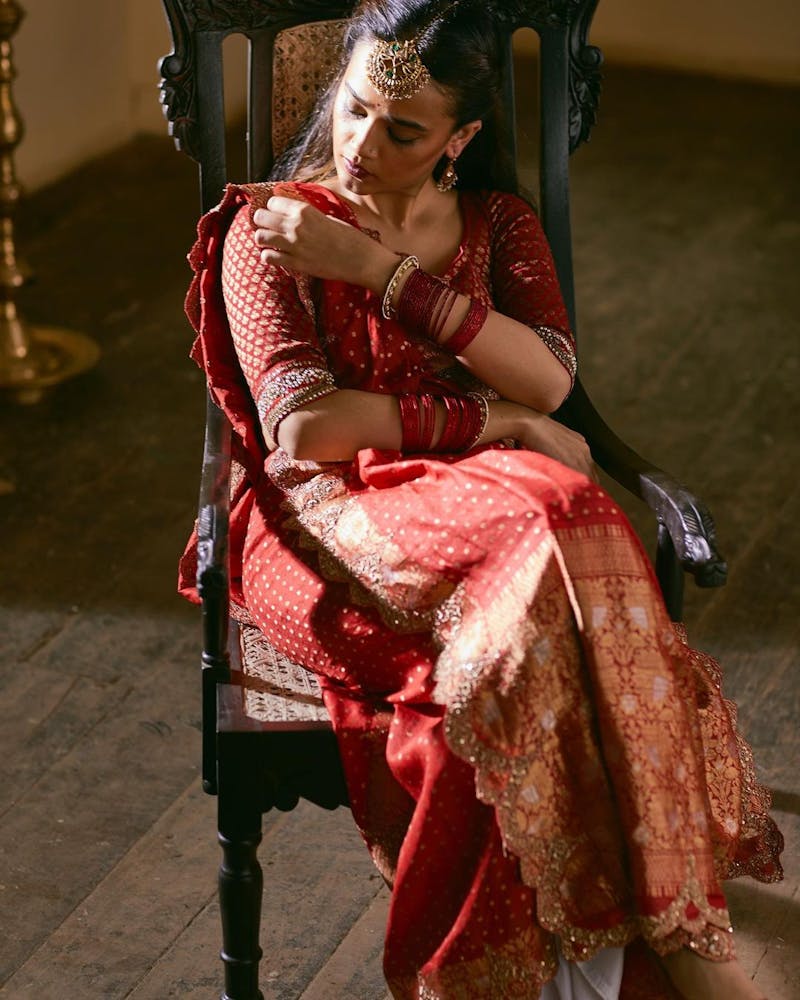 2. How About A Banarasi Saree With Intricate Kalamkari Work All Over The Body?
A beautiful indigo blue silk saree with intricate filver thrd work along the borders is indeed an eye catching design for a Bengali bride reception look. The beautiful silver floral motif is further accentuated by the backdrop in blue. Moreover, the precise and innovative kalamkari print on the entire body is what makes this even more special.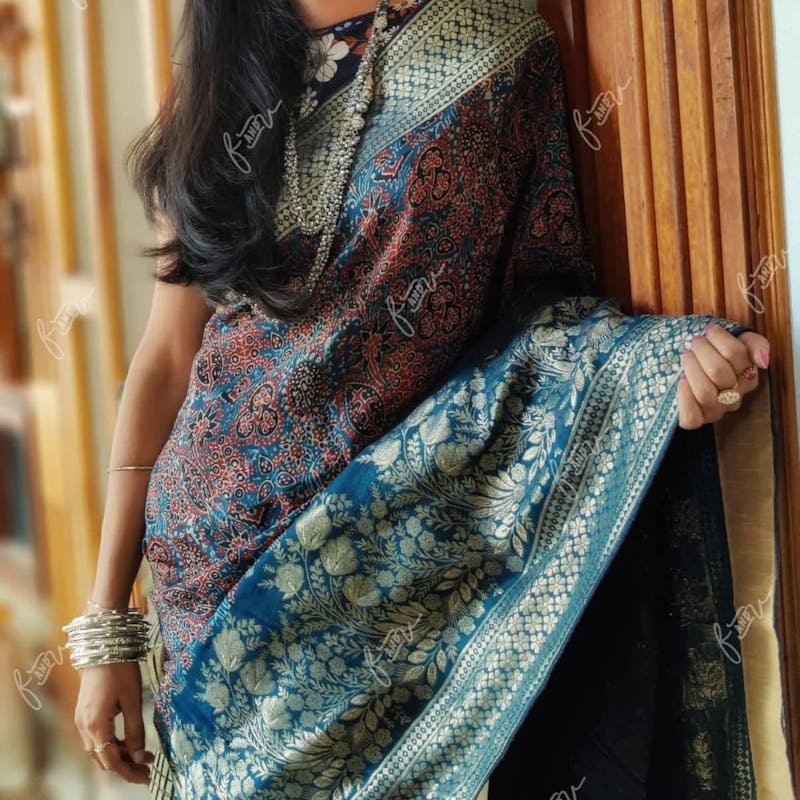 3. An Orange Chiffon Saree With Magenta Border And Banarasi Work Make A Perfect Bengali Wedding Saree For Bride.
Silk is not something all brides prefer wearing today. Some of our bong dulhaniyas choose  lighter and softer fabric like chiffon or cotton linen that are equally bright and bridy in their appearance. The bright orange tangy shade is perfectly balanced by the sweetness of the magenta border. The gota patti work accentuates the aesthetic.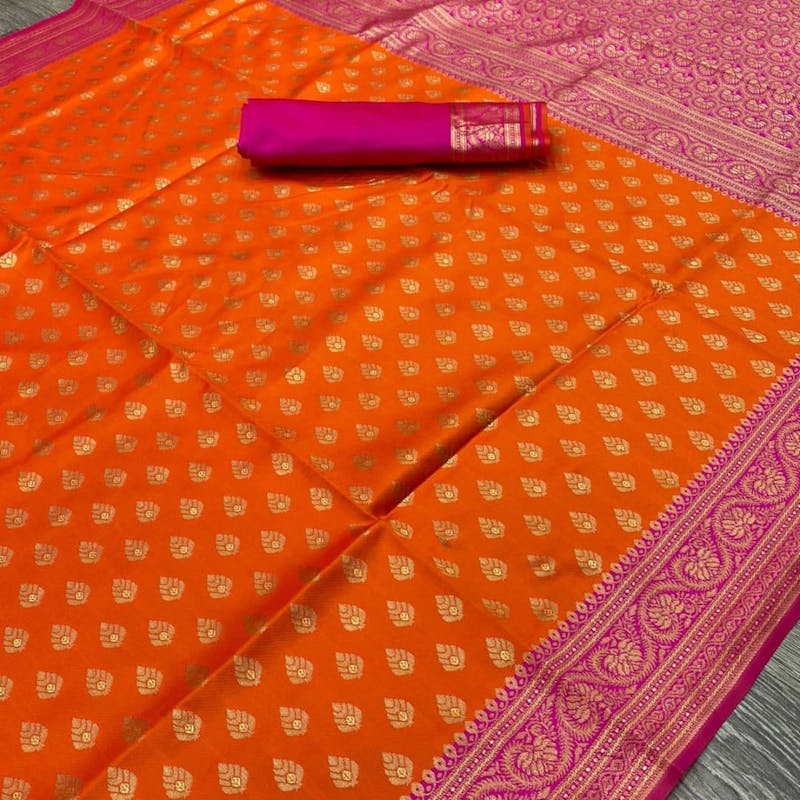 4. The Simple Yellow Kattan Banarasi Bengali Wedding Saree For Bride.
Apart from the traditional Bengali wedding banarasi saree, Kataan sarees are a new thing today that has got a smoother texture with a much coveted bridal sheen. A mustard yellow kataan silk saree with a bright crimson red border is indeed something perfect for the haldi or wedding ceremony. The golden detailing on the border and meenakari butti work on the body and pallu adds to the beauty.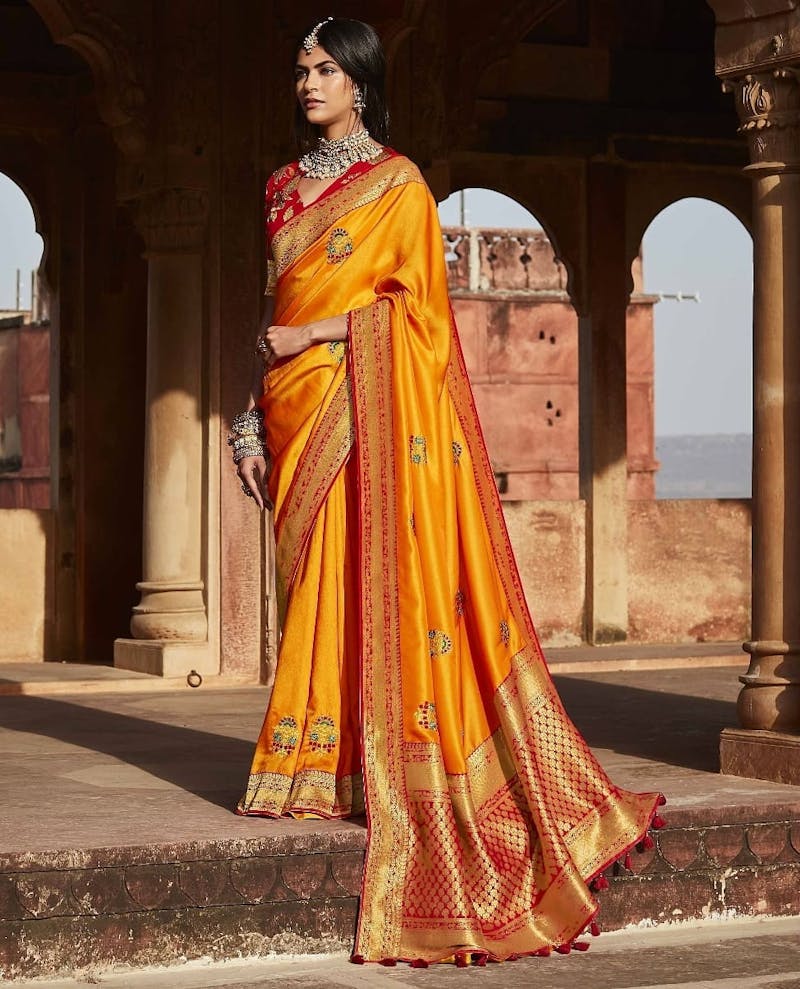 5. Meenakari Printed Off White Banarasi Bengali Wedding Saree For Bride.
This design here is yet another exclusive red and white banarasi saree for Bengali bride. The ivory white banarasi is amplified in its appeal by the meenakari prints all over the body. The vibrant multicolour flower and foliage print is indeed an eye-catching part. The red border with the shiny golden patch is yet another appeal of the design.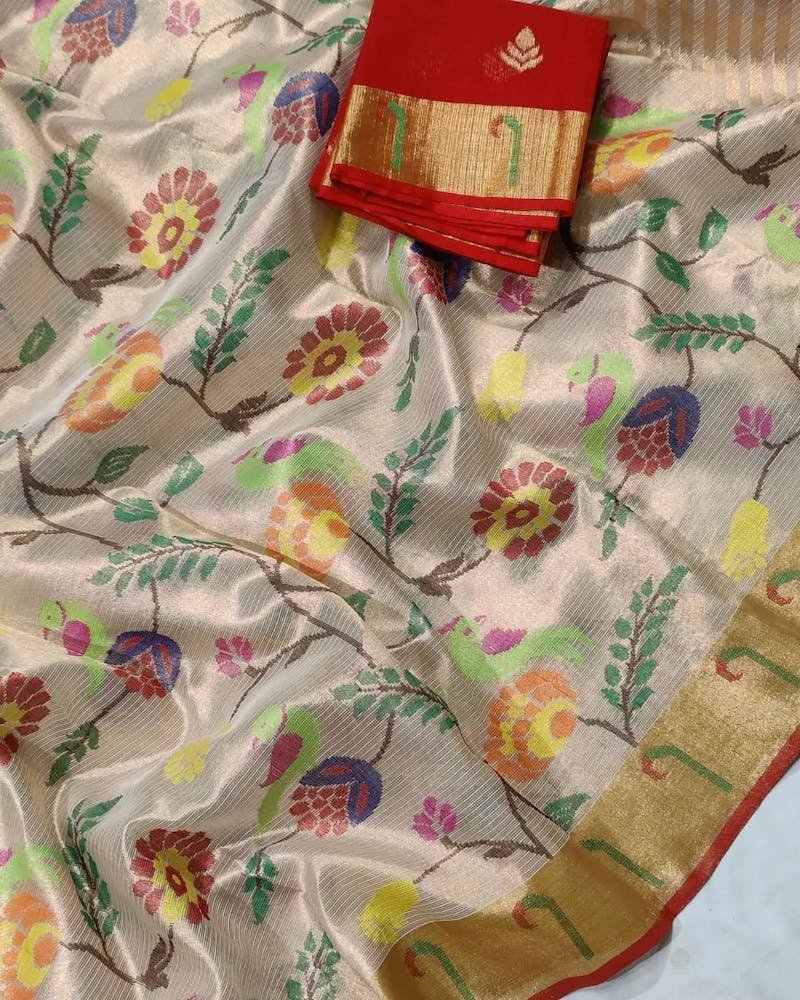 6. A Classic Madrasi Inspired Kanjivaram Saree For Bengali Bridal Saree.
So the bengali bridal market has adapted to the designs and styles of many other regions of the country. And with a little creativity, there has been a revolution in the Bengali wedding saree market. And one of the biggest contributors to the trend is the bridal fashion of Deccan India.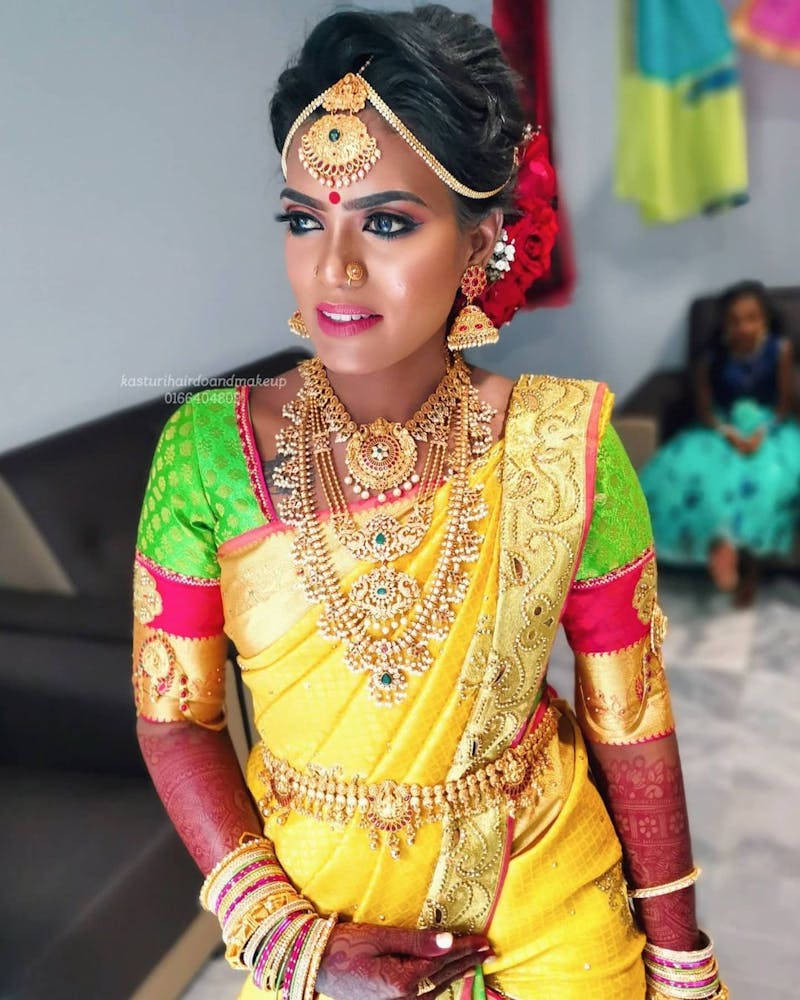 7. This Checked Cadmium Green Kanjivaram Saree Can Be Appropriate For A Bride's Reception Look.
So yet another deccan influenced OOTD for our Bong bride is here. The beautiful bright and dark checked saree is indeed a perfect choice for the bridal outfit. Pairing the saree with some golden temple jewellery and a minimalist or smokey eye makeup shall coddle the goddess in you!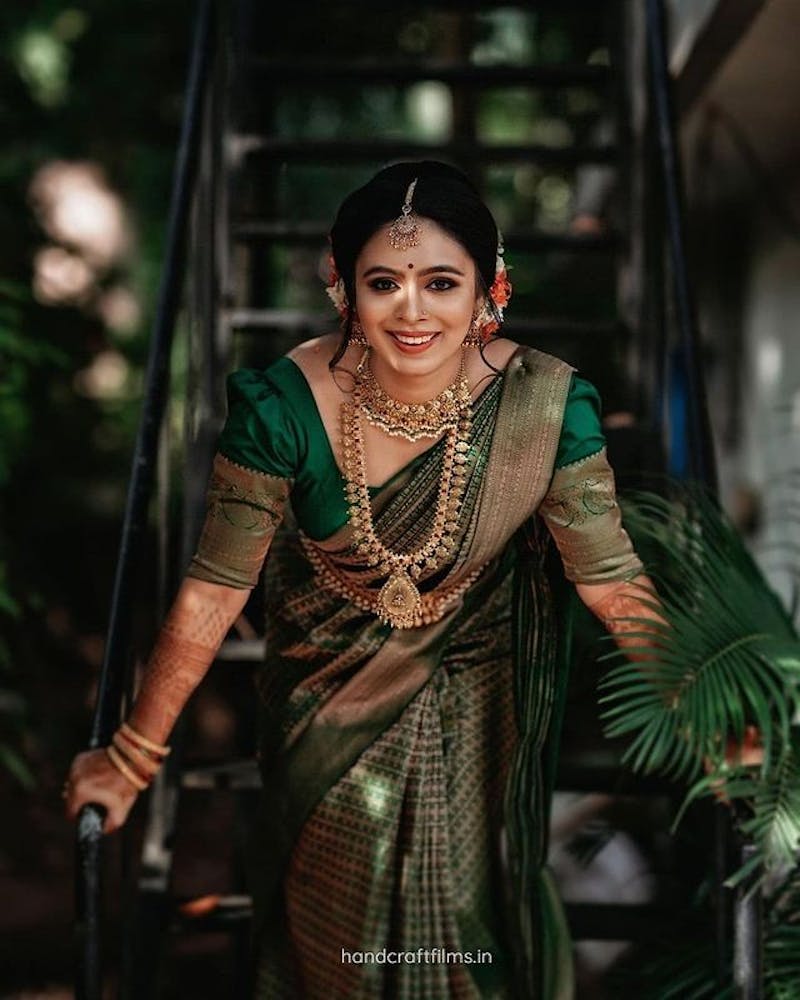 8. How About A Beautiful Fine Net Saree That Looks No Less Than A Wedding Gown?
We do know beauties fantacising over a lush white wedding gown. But how about having something that is as angelic as a gown but at the same time elegant and bong as saree. This pretty super net saree with rhinestone embellishments all over the pallu and the body is indeed something to consider as an alternative to wedding banarasi saree for Bengali marriage.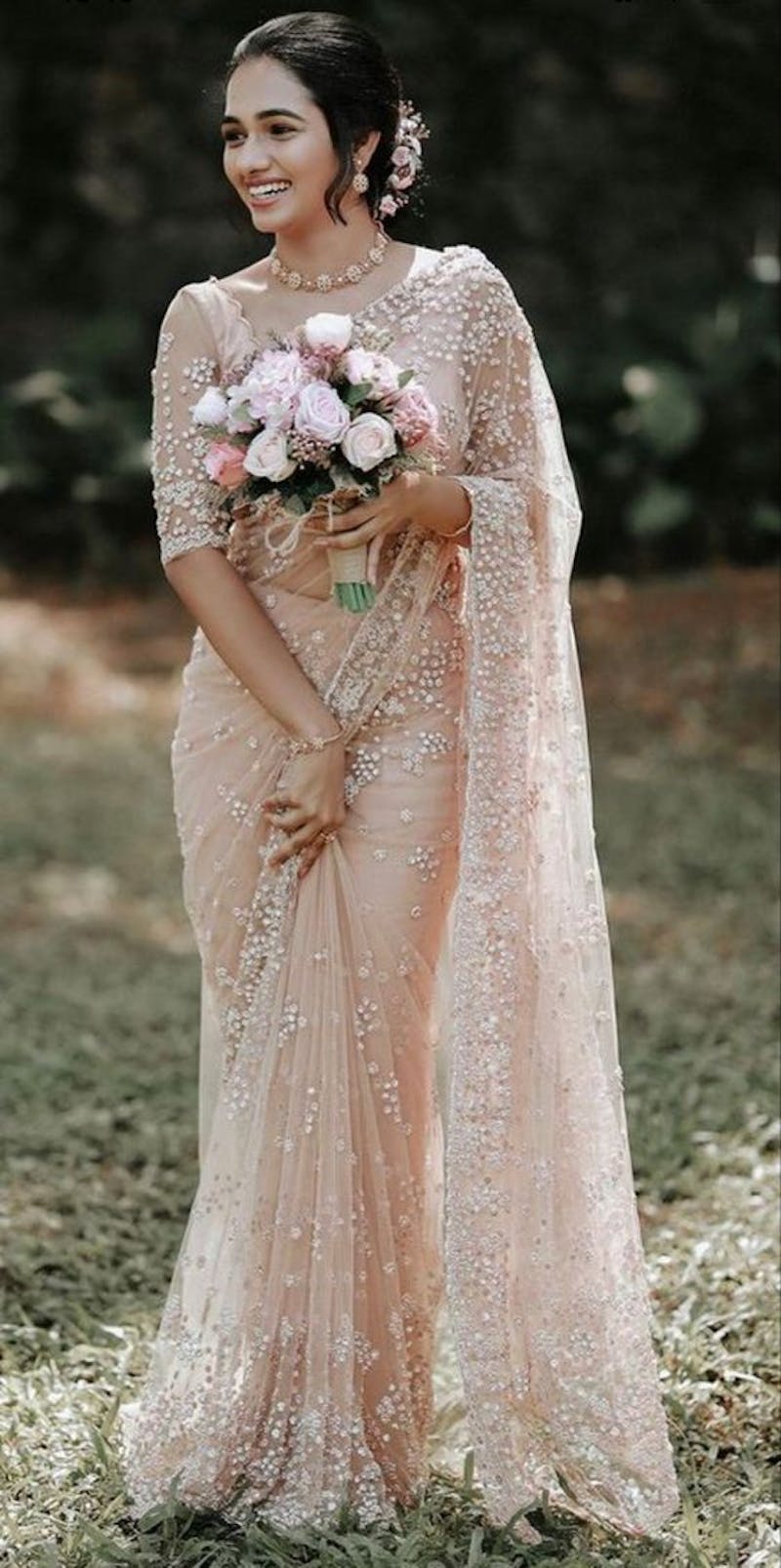 9. The Beautiful Chiffon Georgette Saree With Heavy Zari Work Makes A Perfect Bengali Wedding Saree For Bride.
 So you want to wear something light and flowy, but at the same time can't get over the elegance and richness of a Bengali banarasi saree for wedding? Well this georgette chiffon saree with all the intricate zardosi work all over the body is indeed something you might be craving for in such a scenario. The design is as regal as a Bengali marriage adi mohini mohan kanjilal wedding banarasi saree in its appeal, but also has the flowynes of the fabric.
10. An Ivory And Gold Banarasi For A Simple And Minimalist Bengali Wedding Saree For Bride.
How about ths beautiful white and golden banarasi saree? Can you really deny the fact that this is no less than a bougy Bengali wedding saree sabyasachi? The ivory white kataan benarsi with all the butti kolka done all over its body is indeed a perfect Bengali wedding saree for bride.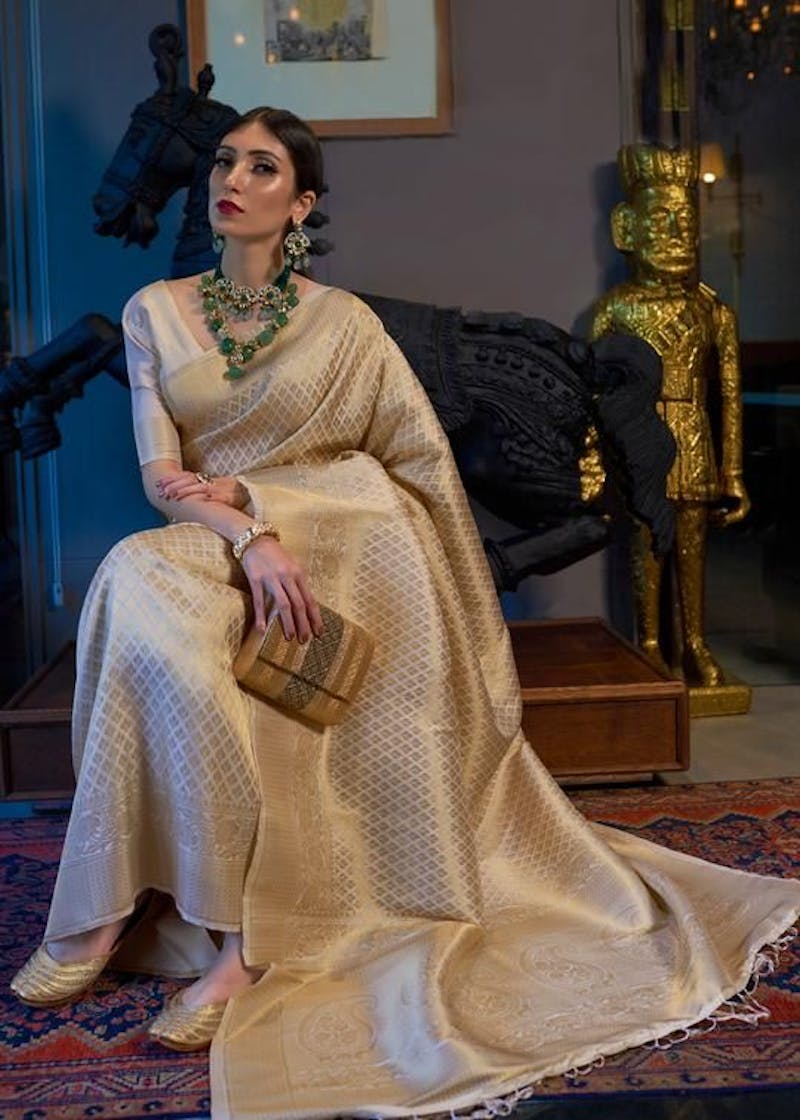 11. A Dual Tone Kajivaram For The Reception Look Of The Bong Bride.
Kanjivaram has been the second favourite and a very much sought in the bengali saree fabrics. This dual tone orange and golden kanjivaram can be yet another Bengali wedding saree for bride that you may wear for your special day! Add a sleek bun with floral gajras to the look.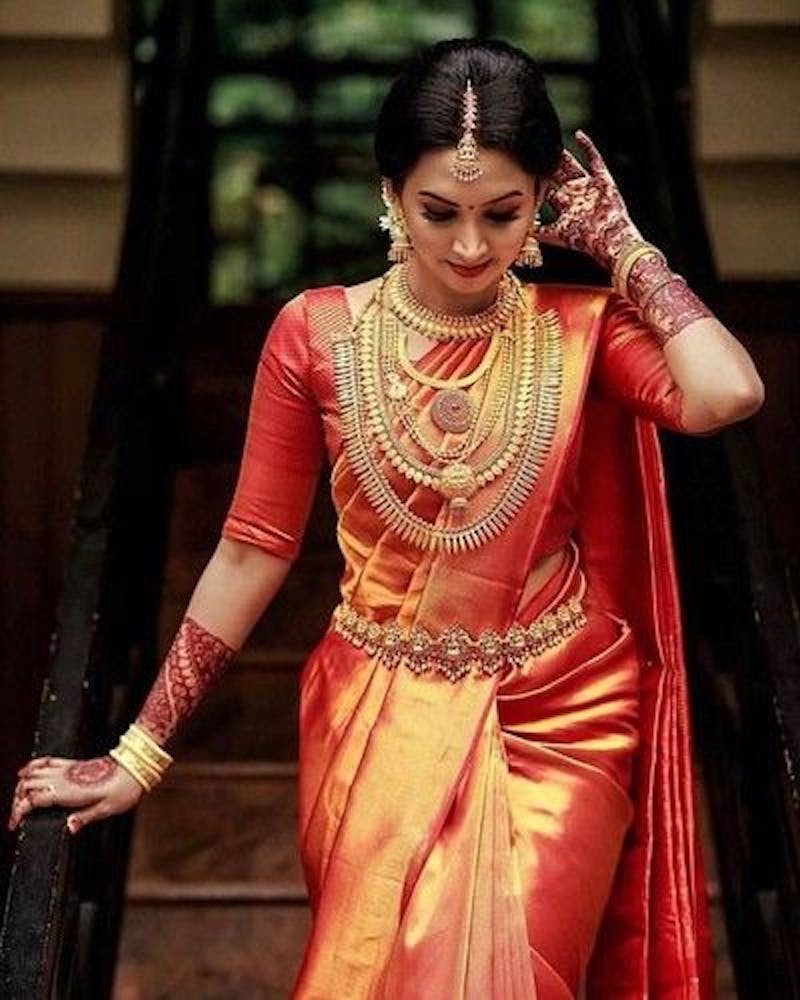 12. A Pastel Shade Organza Saree For A Chique And Minimalist Bengali Wedding Saree For Bride.
Organza sarees have taken over the trend lately. This peachy pink organza saree with temple like motifs indeed is a perfect pick for a minimalist and soft glam look. The intricate sequin work on the blouse is balancing the simplicity of the look. The beautiful stone jewellery further defines the overall outfit.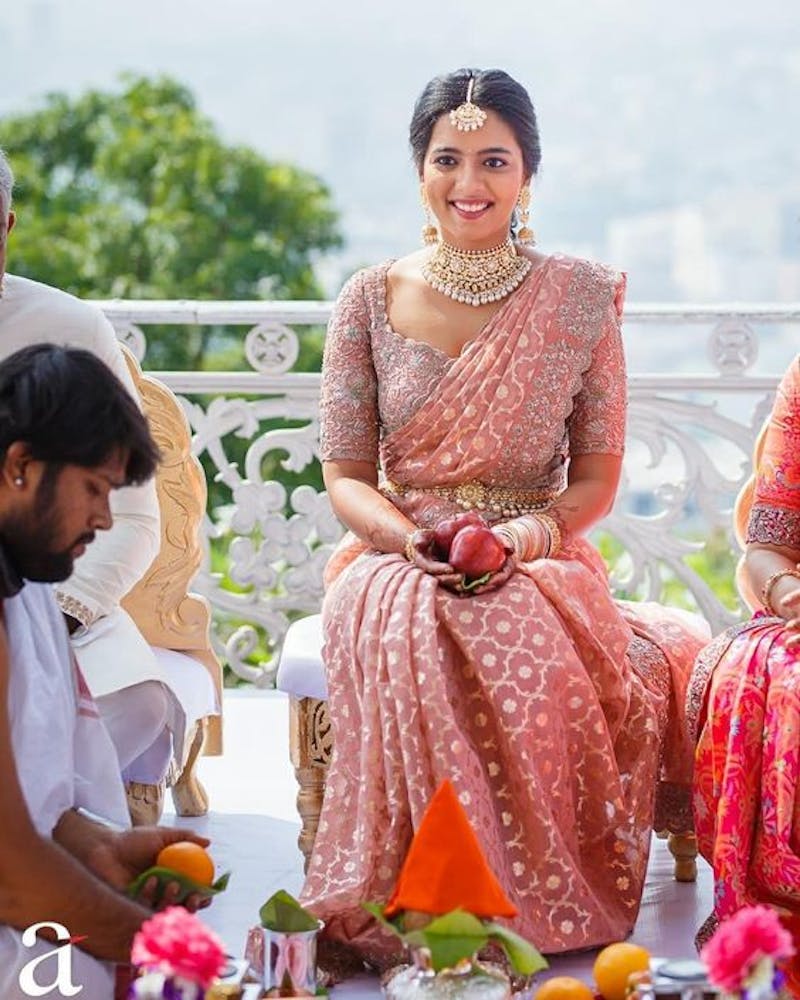 13. A Soft Ombre Banarasi Saree With Heavy Zardosi Work Is A Royal Bridal Option.
Not just monocoloured or bicoloured fabrics, sarees today also come in some beautiful ombre shades as well. The soft blend of maroons, reds and vermillion gradually from the base to upwards is indeed a beautiful thing to see. The meticulously done zari work on the body is indeed a majestic affair.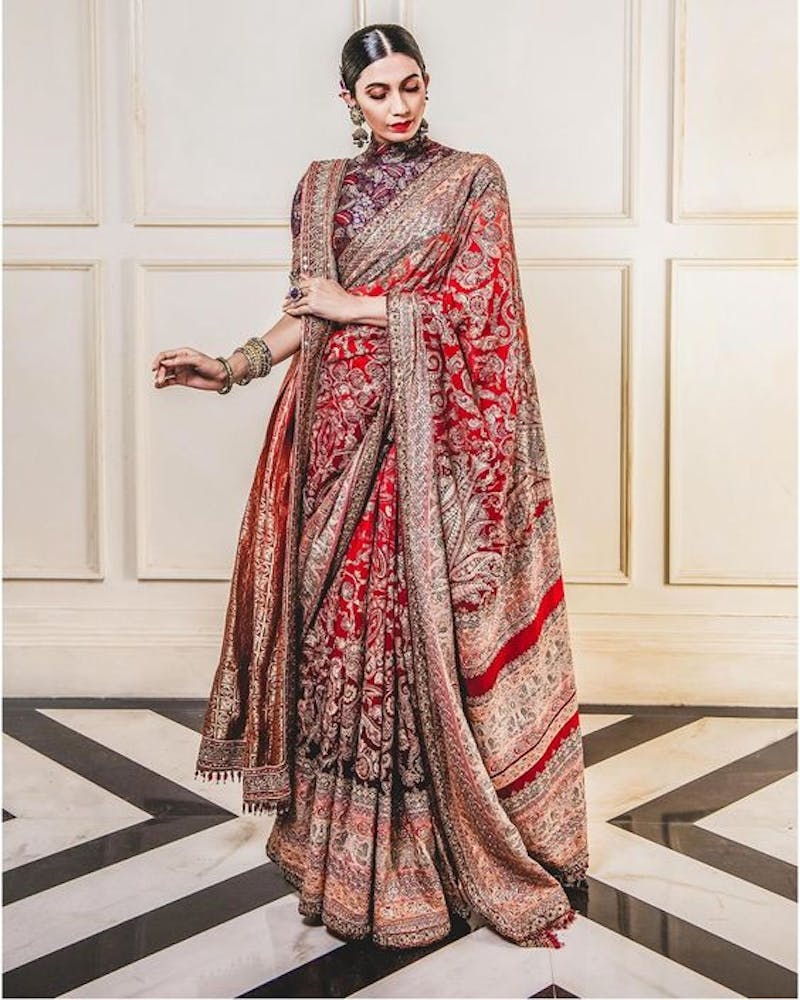 14. A Beautiful Magenta Mangalgiri Saree For A Flowy Drape!
Deepika Padukone and her beau has always been an inspo for the gen zee. Be it with their love story or with their progressive yet tasteful choice of outfits, they are always set to steal the shows. The beautiful magenta monocolour saree is no exception here.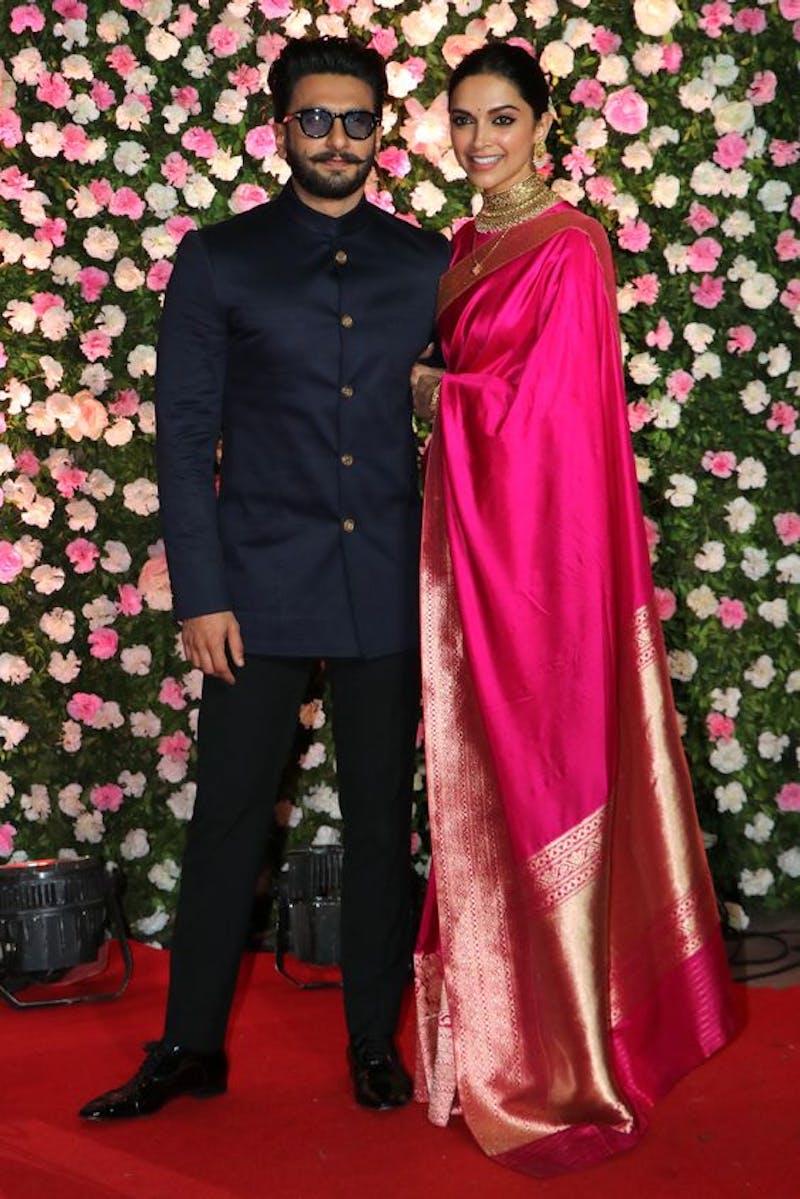 15. A Sequinned Saree For All The Glitz And Glam Of A Bride's Reception Look.
And what do you have to say about this beautiful golden sequin saree? The bright and glimmery saree is perfect for you wear in your reception party as a Bengali wedding saree for bride.