Traditional Bengali Mehndi Design Ideas
You may have frequently questioned why mehndi is so significant to our culture, not just as a foreigner, but also as a Desi. In Indian civilization, the dark green substance prepared from mehndi or henna leaves is a symbol of good luck and affluence. Weddings symbolizes the dawn of a fresh future, and the joy of the newly founded family is inextricably linked to the bride's wellness. As a result, the bride's palms are graced with some lovely Bengali mehndi designs. The mehndi, however, is not just culturally significant; it also has medicinal and antibacterial properties.
Bong brides as nowadays enjoy to decorate their hands with exquisite designs done with mehndi paste, despite the fact that it is not especially native to Bengali culture. Bengalis have embraced a multitude of influences to their traditions as a result of the globalisation of culture, and mehndi art is one of these. However, if you are a soon-to-be bride, you may be curious which designs you should select. And here are some inspo.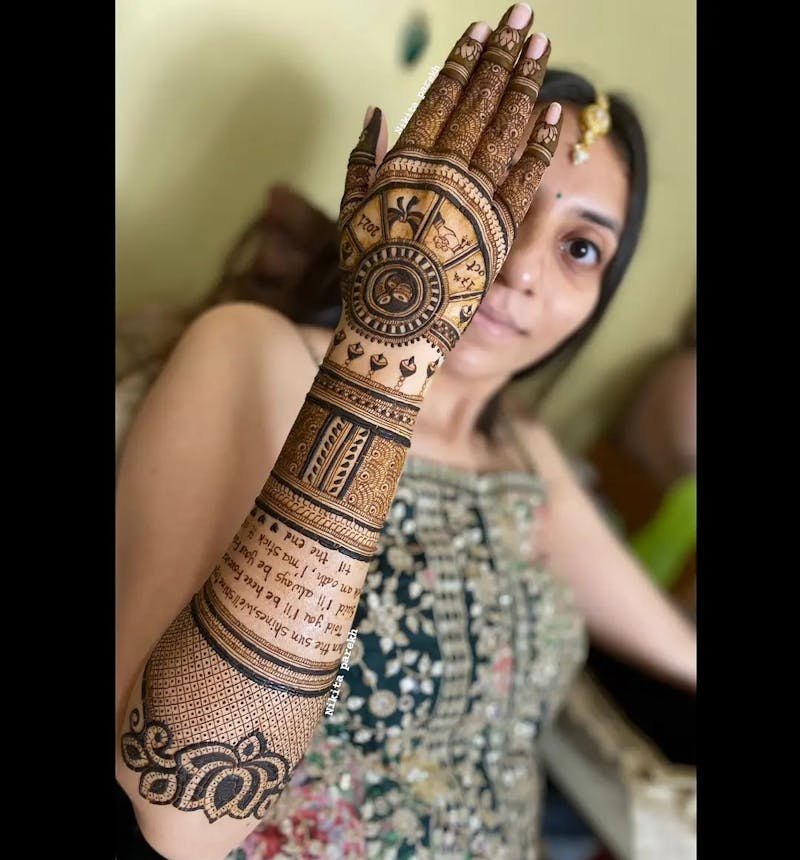 1. Bengali Mehndi Designs With Peacock Motifs.
Peacocks is a species of bird which has been related to grace, dignity, and purity for generations. While the hues of this creature offer for beautiful outfits, incorporating a peacock pattern into your Mehendi design makes the henna much more beautiful. So, without any further hesitation, add some beautiful peacock motifs to your Bengali style mehndi design. Peacock is a lovely bird that looks stunning when used as a henna on the hands. The peacock tail on the palms, which are embellished with little half circular and spots motif, emphasise this design in a very creative and lovely manner and add many twists to the hands.
2. Floral Designs For Bridal Mehendi In Hands.
We gotta admit that most mehendi designs are incomplete without the beautiful and intricate floral. And this is indeed almost true. Floral designs make the best adornment to the simplest of mehendi design. A simple 4 or 5 petal design or an elaborate rose or tulip motif. Floral designs are something that enhances the Bengaliness of the designs. Bold flowers might seem incredibly intriguing if you're seeking for front hand Bengali mehndi designs. It takes time and talent to create the intricate decorations, yet the bold flower is simple and easy to draw. You only need to be a bit creative in this case. It is suited for any occasion, particularly the Indian one. A vivid floral mehndi design might also go well with foliage, doughnuts, and other quasi and round patterns.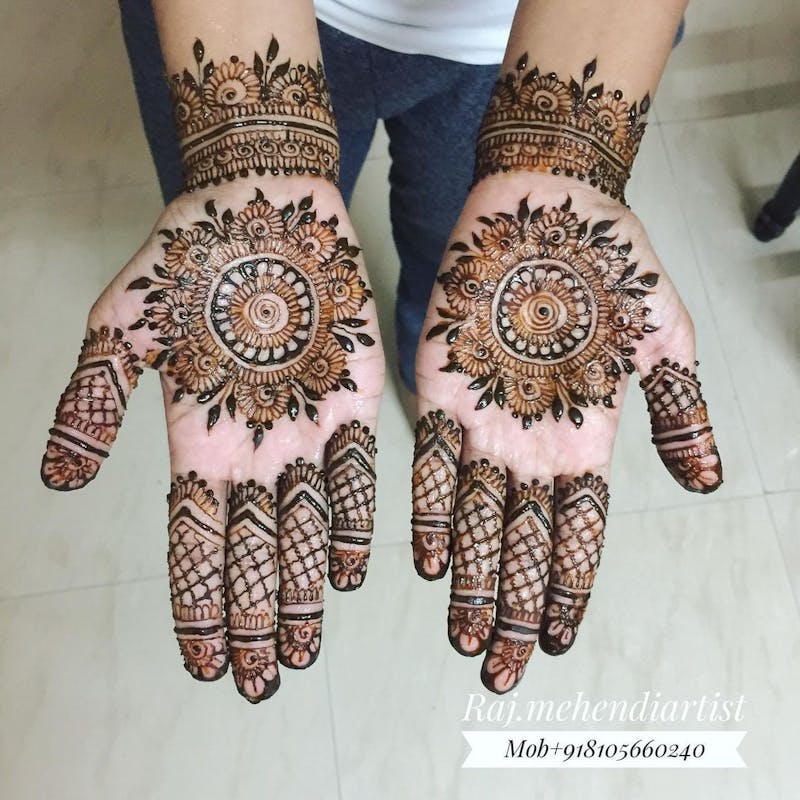 3. Bengali Mehndi Designs In The Half And Half Style.
We appreciate it if you are the type of bride who will not choose any mehndi pattern that first shows on Instagram to be tattooed on your palms for your wedding mehndi. Although some brides prefer to keep their mehndi simple, it's always advisable to go all out and create your love storyline on your hand, regardless of how much area it consumes. Wedding henna is no longer limited to the insignia of the groom disguised within elaborate design. The best mehandi design now includes anything from allocating a whole storyline to your partner to using photos of the two of you. The modern bride has a wealth of alternatives from which to select. 
4. Crisp Arabic Style Bridal Mehndi Design.
Arabic mehndi patterns vary from Indian henna patterns in that the motifs are less elaborate and precise. They are more aggressive and spread. However, Arabic mehndi patterns are sophisticated and suited not only for a basic ivy pattern throughout the palm, as well as for the entire arm and foot simple Bengali mehndi design. The Arabic designs have taken on the buzz these days as they are more on the basic and minimalist side. Designing them is a lot less of a faff than many other styles. The bride may do it for the small events she wants to enjoy, without looking as if it has been gone overboard with.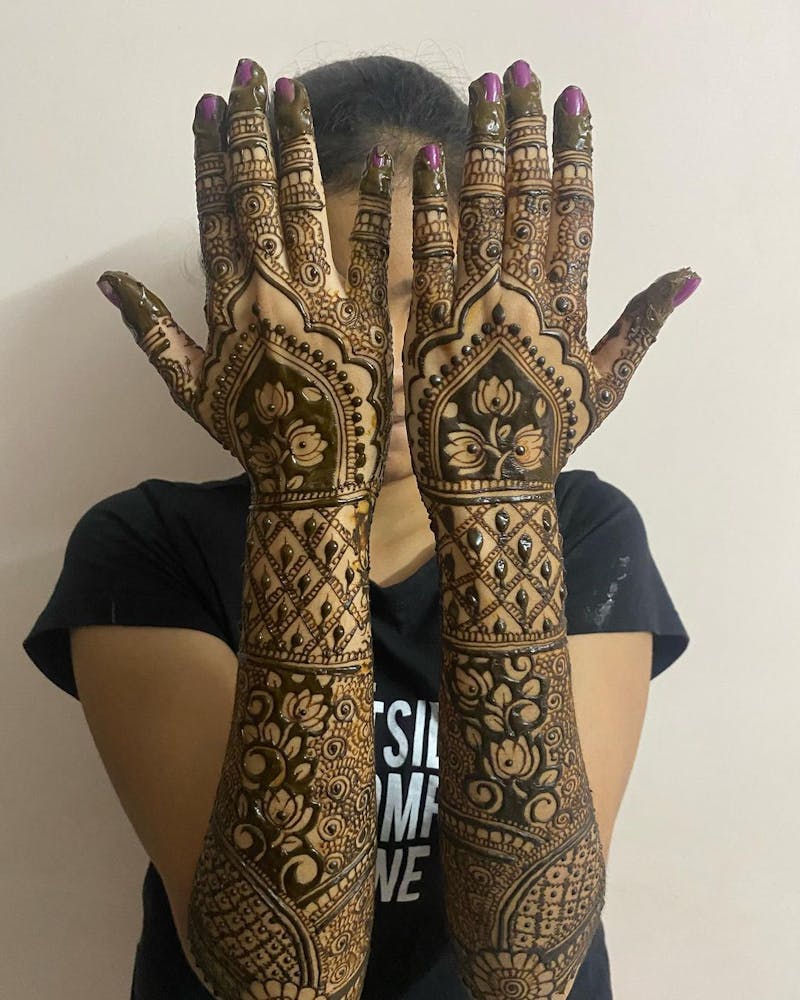 5. Intricate Mandala Art As Bengali Mehndi Designs.
In the era of all the OTT and modern mehendi art, if your eyes crave for doing something that is sombre and as classic, yet is equally modern in its appeal, mandala designs are just the apt choice for you. The old world glory and the sombreness and the intricacy of the designs make a perfect Bengali mehndi designs hands. A very basic yet timeless piece of mehendi design. The concentric designs make a perfect new Bengali mehndi design trend.
6. Rich Rajasthani Inspire Mehndi Art For Hands.
The henna art is an integral part of Indian tradition. This is a bit more applicable to the folk of Rajasthan. They literally do it for every small and big event in their communities. They consider this holy. The intricate motifs and art relate to the rich culture and history of their state. This is what is so special and appealing about the Rajasthani mehendi art. They are a blend of details of flower, leaves, figures and other unique swirl patterns. They make a perfect inspo for Bengali mehndi designs.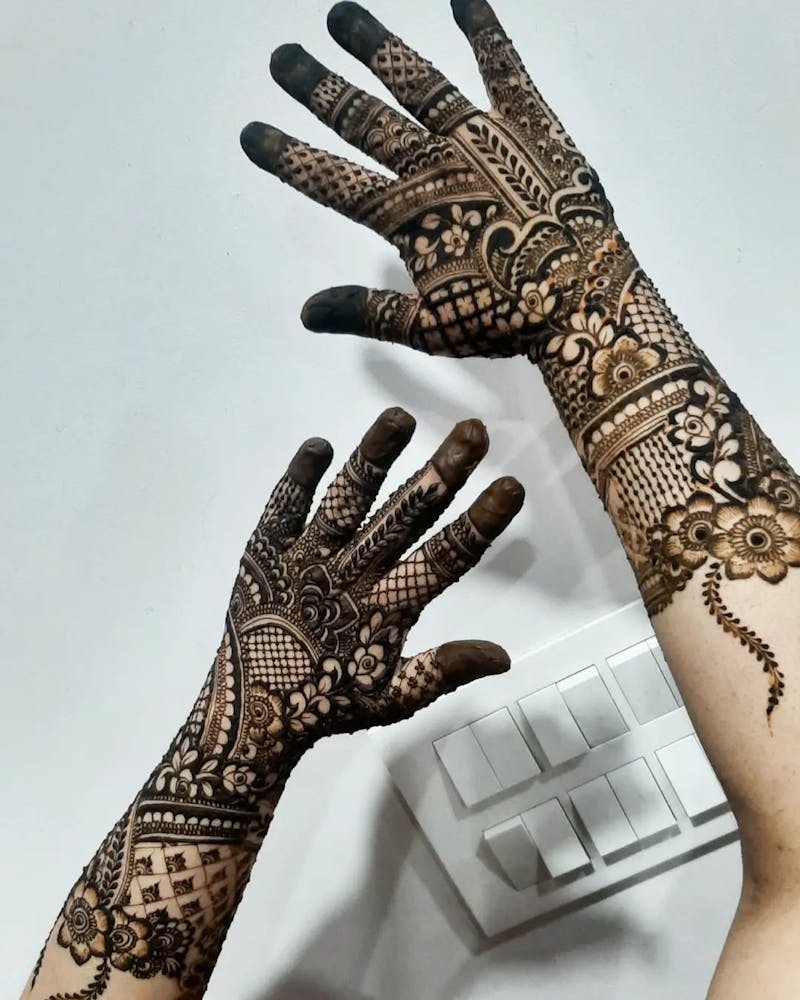 7. Simplistic Bengali Mehndi Designs For Bride.
Junk and very deep knit designs are not always something very much looked for by every bride. Brides today look forward to a more simplistic and minimalist appeal to their designs. So going for minimalist motifs that spread over the hand and not make the hand too much cluttered. So modest floral and leafy motifs can be a good choice of Bengali mehndi designs. So our chic diva brides can always choose these designs.
8. Quirky African Art Inspired Bengali Mehndi Designs.
No mehendi wasn't always a thing in Africa. But the native people there had their own indigenious form of tattoo art. But over the time with globalization of trends and designs they also started taking taste in temporary henna tattoos. Indian henna style also has taken inspo from the quirky aboriginal art of the place. And modern brides today opt such design as their choice of a minimalist style Bengali mehndi designs. The triangular, or wavy motifs add to the beauty and appeal of the designs.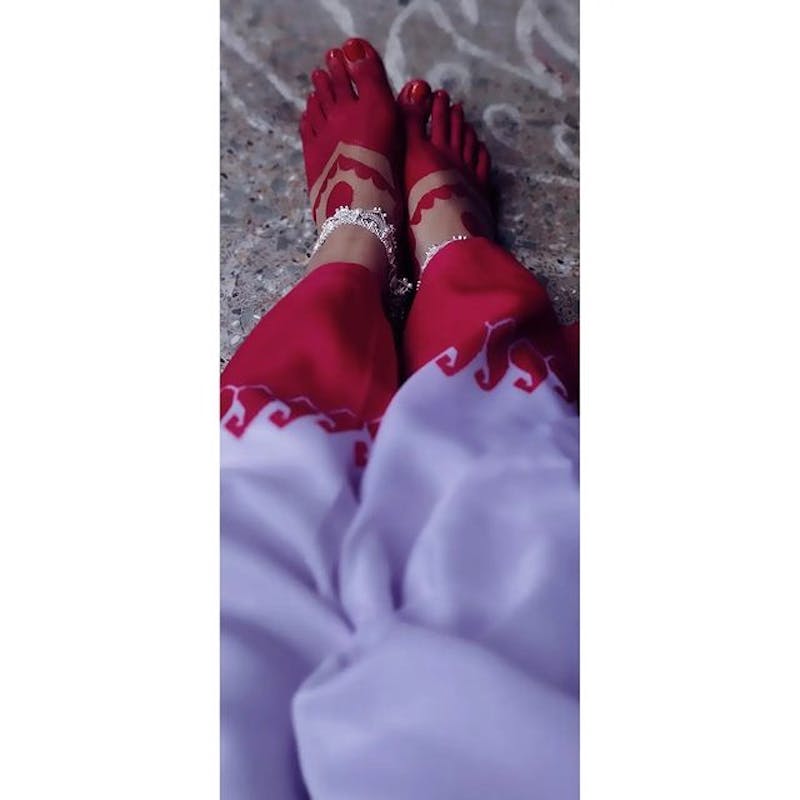 9. Classic Aalta And Haathkolka Bengali Mehndi Designs.
Aalta is the very native form of temporary staining in the Bengali culture along with some of its east and north east Indian neighbours. However, the Bengali mehndi designs today have also replaced the cliched henna paste art. Brides today love adorning their hands with simple and intricate white kalka art done over a backdrop of alta cladden fillings. This is a perfect amalgamation of east Indian aalta kalka with west Indian henna art. 
10. Pakistani Inspired Bengali Mehndi Designs.
Pakistanis henna designs, like Indian henna designs, express creativity, heritage, festivity, & legacy. However, the patterns of Pakistan and India mehendi patterns vary considerably. In Pakistani, mehendi patterns are a hybrid of Arabian and Asian patterns. However, the intricacy and richness of the designs make an appealing aspect for the bride. This makes it a very coveted styles of Bengali mehndi designs.